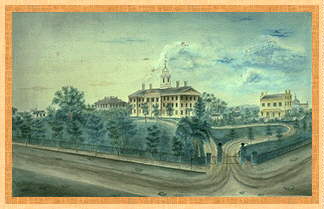 R-MC 005
By Susan M. Piserchia
May, 1991
Special Collections and University Archives, Rutgers University Libraries
---
Creator:
Shotwell, Edmund B. 1901-1962
Title:
Manuscript Notes on the Life of Henry Rutgers
Dates:
1946-1962
Quantity:
.8 cubic feet (2 manuscript boxes)
Abstract:
Research notes and reference material compiled by Edmund B. Shotwell for a proposed biography of Henry Rutgers (1745-1830).
Collection No.:
R-MC 005
Language
English.
Repository:
Rutgers University Libraries. Special Collections and University Archives.
---
Edmund B. Shotwell, 1901-1962
Edmund B. Shotwell graduated from Yale University in 1923. He received his J.D. from Harvard Law School in 1926. He was admitted to the bar in both New York and New Jersey. Shotwell was also admitted to practice before the Supreme Court. Specializing in estate law, he was associated with the law firms of Dorr, Hand, Whittaker and Watson in New York; and Richard Riddle Fisher in Newark.
Shotwell was the son of Thomas Cooper Shotwell, the financial editor for the New York Evening Journal, and a former Spanish-American war correspondent. His lineage can be traced back to the mid-17th century; his ancestor Abraham Shotwell was among the first settlers of Elizabeth Town, New Jersey. A brewer like Harman Rutgers (Henry's great-grandfather), Abraham Shotwell owned land on the Lower East Side of Manhattan Island, and it is conceivable that the Rutgers and Shotwell families were acquaintances.
Married in 1927 to Katherine Duguid, Edmund B. Shotwell had five children. His son Tom, Rutgers '50, inspired Shotwell's research into the life of Colonel Henry Rutgers. An amateur historian, Shotwell also published a pamphlet entitled "The Battles of Connecticut Farms and Springfield." He was also a member of the Sons of the American Revolution. Edmund B. Shotwell died in 1962, at the age of 61.
Henry Rutgers, 1745-1830
Henry Rutgers, a sixth-generation descendent of a family whose wealth and popularity placed them among the leaders of their community, became his clan's most illustrious member. Born in 1745, Rutgers was educated at King's College (Columbia), and began a long career as a gentleman, philanthropist and politician.
During the 1760's American colonists began serious disputes with English rule. Rutgers, a staunch colonial, became by 1776, a captain in the Continental army. In 1789, he was appointed a lieutenant colonel in the New York Militia. Rutgers' role in the Revolutionary War brought him not only fame, but the friendship of George Washington and the Marquis de Lafayette.
Rutgers defended his country during the War of 1812, as well. By convincing volunteers to build fortifications, Rutgers helped ensure the successful defense of New York from the British.
Four-times elected to the New York State Legislature, Rutgers used his considerable land holdings for the benefit of his fellow citizens. Although a member of the Dutch Reform Church, Rutgers' gifts of land and money were interdenominental, and some Rutgers funded congregations are still in existence. Rutgers also contributed both time and money to educational institutions, founding the Rutgers Female College, and serving as a trustee of Columbia, Princeton, and New York University.
Henry Rutgers' affiliation with Queens College dates to 1815, when for six years he served as a trustee of the college. His generous donation of five thousand dollars and a bell, as well as his continued support of the college led to the petitioning of the New Jersey Legislature for a name change. The petition was granted on December 5, 1825, and Queens College became Rutgers College.
Henry Rutgers never married. At his death in 1830, Rutgers' bequests continued the good works of his life by donating one-third of his fortune to charities.
---
The papers of Edmund B. Shotwell consist primarily of research notes compiled for a proposed biography of Henry Rutgers. The notes are handwritten, in both pen and pencil. Additional items, such as newspaper, magazine and book clippings, have been affixed to pages, along with handwritten notations.
Shotwell's notes cover approximately the period of Henry Rutgers' life (1745-1830), and include research on his education, political, religious and social affiliations. Additional background information is provided about the age in which Rutgers lived and his contemporaries.
Genealogies of the Rutgers family, maps of family property, and lists of deed transfers are also included. The correspondence of Shotwell deals specifically with inquiries made to persons and/or agencies concerning Henry Rutgers.
---
Personal Names
Rutgers, Henry, 1745-1830
Shotwell, Edmund B., 1901-1962
Corporate Names
American Bible Society--History
Columbia University--History
King's College--History
Queen's College--History
Reformed Church of America
Rutgers College--History
Rutgers University--History
Geographical Subjects
New Brunswick, N.J.--History
New York (N.Y.)--History
Subjects
Revolutionary War, 1775-1783--New York (N.Y.)
Form and Genre Terms
Manuscript notes
Maps--New York (N.Y.)--18th century
---
Demarest, William H. S. A History of Rutgers College. New Brunswick, N.J.: Rutgers College, 1924
Kramer, Barry S. "The Compleat Henry Rutgers, Parts I and II," Rutgers Alumni Monthly, (October and November, 1963)
Rutgers, Nicholas Gouverneur, "The Rutgers Family of New York and New Jersey." Unpublished manuscript. Special Collections and University Archives, Rutgers University Libraries
Shotwell, A. M., Our Family Annals. Concord, MI: Ambrose M. Shotwell, 1895
Shotwell, Edmund B., The Battles of Connecticut Farms and Springfield, 1780. Springfield Sun Publishing Company, n.d.
New York Times, November 8, 1962, p. 19
New York Times, December 15, 1957, p. 86
---
Manuscript Notes on the Life of Henry Rutgers, 1946-1962
Box
Folder
1
1
History of New Brunswick area; Queens College; Rutgers College; Presidents of Queens/Rutgers Colleges.
2
"Henry Rutgers and the American Bible Society" (includes manuscript notes)--draft copies
3
Religious contemporaries of Henry Rutgers; Congregations supported by Rutgers
4
Contemporary and historical figures of Henry Rutgers (includes illustrations)
5
Military battles of the Revolutionary War
6
Military career of Henry Rutgers
7
New York City history, including real estate dealings and interests of Henry Rutgers
8
Education of Henry Rutgers (includes pamphlets "The Black Book of King's College" and "Columbia College")
9
Genealogy of Rutgers family
10
Maps and Related Manuscript Notes
11
Correspondence relating to inquiries made about Henry Rutgers
12
Bibliography of sources
Box
Folder
2
1v
Real Estate Dealings of Henry Rutgers; land purchases and sales, deed tracings
2v
Compilation of manuscripts notes reconstructing the life of Henry Rutgers (1745-1830)