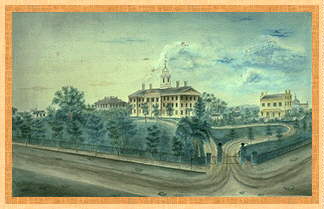 RG 04/A10
By Ellen R. Callahan
April, 1992
Special Collections and University Archives, Rutgers University Libraries
---
Creator:
Rutgers College. Office of the President
Title:
Inventory to the Records of the Rutgers College Office of the President (Austin Scott),
Dates:
1865-1937
Quantity:
.8 cubic ft. (2 manuscript boxes)
Abstract:
The records and papers of Austin Scott, 1865-1927 (bulk, 1871-1922) consist of records from his presidency of Rutgers College and personal papers, including his notes from graduate history study in Germany.
Collection No.:
RG 04/A10
Language
English.
Repository:
Rutgers University Libraries. Special Collections and University Archives.
---
Austin Scott was born in Toledo, Ohio on August 10, 1848, the son of Jeremiah Austin Scott and Sarah (Remey) Scott. He was named Frank Austin Scott, but eventually dropped the first name. Scott received his A.B. degree from Yale College in 1869, and an A.M. from the University of Michigan in 1870.
Scott spent three years studying history in Germany at the Freidrich Wilhelm University (University of Berlin) and the University of Leipzig, receiving his Ph.D. from Leipzig in 1873. While in Berlin, Scott studied Ancient History under both Theodor Mommsen (1817-1903) and Johann Gustav Droysen (1808-1884), two leading German historians. In Germany and later while teaching at Johns Hopkins University, Dr. Scott also served as research assistant to the eminent constitutional historian, George Bancroft, aiding in the preparation of Bancroft's tenth volume of the History of the United States and later the History of the Constitution of the United States.
After receiving his degree, Scott taught German at the University of Michigan from 1873 to 1875. In 1876, he became an associate in history at the newly formed Johns Hopkins University and continued his work with Bancroft. In 1882, Dr. Scott married Anna Prentiss Stearns. They had seven children.
Austin Scott came to Rutgers in 1883, serving as Voorhees Professor of History, Political Science, Economics, and Constitutional Law from 1883 to 1891, and again from 1906 to 1922. His tenure as professor included introducing the first history seminar to Rutgers. see Rutgers College. Seminar in History. Minutes (RG 23/D1/04)
Scott served as President of Rutgers College from 1891 to 1906. His administration was centered on concern about the college's relationship with the State of New Jersey. The main point of contention was the state's refusal to make payments to the school as stipulated in the Scholarship Act of 1890. Through Scott's efforts, the issue was finally resolved in the college's favor in 1905. One of the state's complaints on this matter was Rutgers' limited course offerings in agriculture. As a result, a distinct curriculum in agriculture was begun during Scott's presidency, under the guidance of Dr. Edward B. Voorhees. At the same time the faculty, under Scott's direction, sought to strengthen the classical program as well. Under his administration the college witnessed many physical renovations and changes, most notably the construction of the Robert F. Ballantine Gymnasium and the Ralph Voorhees Library. After fifteen years of presidential service, Scott submitted his resignation, returned to the faculty, and provided assistance to his successor, William Henry Steele Demarest.
After resigning his post as president, Scott continued his teaching and also became active in the civic affairs of New Brunswick. In 1912, he was elected mayor and served for three years. Austin Scott died at his summer home in Granville Centre, Massachusetts on August 15, 1922.
---
The records and papers of Austin Scott span the years between 1865 and 1937. The bulk of the material consists of Dr. Scott's graduate school notes (1871-1872), and the records from his presidency of Rutgers College. The papers are divided into three series: Presidential Records, 1891-1906; Personal Papers, 1871-1928; and Clippings, 1871-1937.
The Presidential Records include correspondence, reports, and subject files. Although these files span the dates of Scott's presidency (1891-1906), they do not fully cover those fifteen years. The correspondence and subject files provide very limited discussion of academic policy or day-to-day dealings with the faculty or students.
There are only five "President's Statements to the Board of Trustees," (one for 1891, three from 1892, and one from 1898). The most significant of these is the first, dated October 27, 1891. This report discusses the expansion of the Extension program and is accompanied by reports from the heads of each academic department of the time. Filed with this report are the original reports sent to Scott by the department heads, with the exception of Edgar S. Shumway's original report on Roman Law.
The correspondence covers a wide range of subjects. Some points of interest include a January 28, 1895 letter from Charles Freeman ('80) complaining that Scott has misused his office by testifying at a State Legislative committee hearing in opposition to a State Assessor's candidate. Scott's communication of November 13, 1897 with Professor Edgar S. Shumway voices concern about the classical curriculum at Rutgers, and a June 9, 1902 letter from Albert H. Chester regards the establishment of a Department of Ceramics.
Within the Subject Files there is a significant amount of material on the State Scholarship Act of 1890. In 1893, Scott apparently wrote to county school superintendents soliciting their opinion of the Scholarship Act and the state's failure to comply. The many replies to this inquiry are part of this record, as well as a copy of a memorial sent by President Scott to the State Legislature in 1894, addressing the problem and seeking relief.
Financial notes and correspondence include information about gifts and bequests as well as estimates for building repairs and maintenance. These include an October 22, 1892 letter to Scott from Ann Van Nest Bussing, offering to provide funds to improve Van Nest Hall (which was done in 1893), an 1897 report on Robert F. Ballantine's gifts for the construction of a new gymnasium, and a note which itemizes gifts to Rutgers College between November 1890 and November 1898.
Among the speech material are two particularly interesting undated addresses. One describes the college's chief needs and its mission, and the second addresses the topic, "What could be accomplished with a million dollars for Rutgers College."
The Personal Papers include correspondence, subject files, and materials generated when Scott was a graduate student in Germany. The correspondence spans Dr. Scott's life before his presidency of Rutgers College, and after, with the bulk of material covering the years 1886-1887 and 1913-1916. Some of the more interesting letters include a copy of a letter from Scott to George Bancroft (February 8, 1886), informing his mentor that students were urged to purchase Bancroft's latest pamphlet, and letters from William Stryker, Adjutant General of New Jersey, answering research inquiries from Scott (October 23, 1886, December 7, 1887, and April 2, 1888).
Within the subject files are biographical materials on Austin Scott, his wife, Anna Prentess Stearns, and their children. This includes a form for the General Catalogue of Rutgers College, filled out by Anna Scott in 1928, and a copy of the Encyclopaedia Britannica,11th edition, entry on New Jersey written by Austin Scott in 1921. Also included is a bound ledger in which Scott kept research notes on New Jersey, focusing mostly on the colonial period. The volume contains an alphabetized subject index.
The bulk of the graduate school material consists of lecture notes taken by Scott while a student in Berlin. All of these notes were written in German. These records are especially notable because they record the lectures of Theodor Mommsen (1817-1903), considered to have been one of the most skilled and professional scholars of Ancient Rome, and Johann Gustav Droysen (1808-1884), perhaps the foremost nineteenth-century scholar of Ancient Greece. Some of the notes are untitled and appear to be incomplete. Three of the classes (Ancient Rome, Annals of Livy, and Rome under Diocletian) were taught by Mommsen, with a fourth (Greek History) taught by Droysen. These materials may have significance to historians for a variety of reasons--interest in the subject matter; interest in the early development of the teaching of history; interest in Mommsen's and Droysen's style, albeit Scott's interpretation of it; and the fact that these courses on imperial Greece and Rome were taught at the very time of unification of imperial Germany in the early 1870s.
There is an unidentified manuscript also written in German that does not appear to be lecture notes and may be a draft of a graduate essay. In addition, there is a listing of Scott's course of study in Berlin and certificates of attendance, as well as an index to lectures and instructors at Frederic Wilhelm University, 1871-1872, and the Summer of 1876.
The third series, "Clippings," spans the years 1871-1937, with the bulk concentrated from 1891 to 1922. Areas of interest include coverage of Austin Scott's election as President of Rutgers College, his resignation, and the many different reports, including a memorial tribute, following his death in 1922. These clippings also include his wife's obituary (January 23, 1933), and a few articles about his children.
---
The papers are divided into three series:
---
Personal Names
Atherton, George Washington, 1837-1906
Ballantine, Robert F., 1836-1905
Bancroft, George, 1800-1891
Bradley, Joseph P., 1813-1892
Bussing, Ann Van Nest
Butler, Nicholas Murray, 1862-1947
Chester, Albert Huntington, 1843-1903
Dana, John Cotton, 1856-1929
Demarest, William H. S. (William Henry Steele), 1863-1956
Droysen, Johann Gustav, 1808-1884
Dryden, John F. (John Fairfield), 1839-1911
Freeman, Charles M.
Frelinghuysen, Frederick, 1848-1905
Goodell, Henry Hill, 1839-1905
Long, John Davis, 1838-1915
Mommsen, Theodor, 1817-1903
Murphy, Franklin, 1846-1920
Parker, Richard Wayne, 1848-1923
Paterson, William, 1745-1806
Patton, Francis Landley, 1843-1922
Presbrey, Frank, 1855-1936
Putnam, Herbert, 1861-1955
Reid, Whitelaw, 1837-1912
Scott, Anna Prentiss Stearns, d. 1933
Scott, Austin (Frank Austin), 1848-1922
Shumway, Edgar
Stryker, William S.
Voorhees, Edward B., 1856-1911
Washington, George, 1732-1799
West, Andrew Fleming, 1853-1943
Wilson, Woodrow, 1856-1924
Woodhull, Alfred A. (Alfred Alexander), 1837-1921
Corporate Names
Freidrich Wilhelm University (Berlin, Germany)
Henry Guest House (New Brunswick, N.J.)
New Brunswick Historical Club (N.J.)
Ralph Voorhees Library (New Brunswick, N.J.)
Rutgers University--History--Sources
Rutgers College--Administration
Rutgers College--Buidlings--Repair and construction
Rutgers College--Curriculum
Rutgers College--Finance
Rutgers College--History--Sources
Rutgers College--Presidents
Rutgers College. Department of Agriculture
Rutgers College. Department of Atronomy and Mathematics
Rutgers College. Department of Chemistry
Rutgers College. Department of Graphics and Mathematics
Rutgers College. Department of Greek
Rutgers College. Department of Roman Law
Rutgers College. Extension Division
Rutgers College. Robert F. Ballantine Gymnasium
Rutgers College. Van Nest Hall
Rutgers Preparatory School (Somerset, N.J.)
Rutgers University--Presidents
Second Reformed Church (New Brunswick, N.J.)
University of Leipzig (Leipzig, Germany)
Subjects
Agricultural education--New Jersey
Agriculture--Study and teaching
College administrators--New Jersey
College presidents--New Jersey
Colleges and universities--New Jersey
Dutch Americans--Kentucky
Dutch Americans--New Jersey
Education and state--New Jersey
Education--Finance--New Jersey
Education--New Jersey
Educational administration
Higher education and state--New Jersey
Historians--New Jersey
History--Study and teaching
New Brunswick (N.J.)--History
New Brunswick (N.J.)--Societies, etc.
New Jersey--History--Polotics and government--1865-1950
New Jersey--History--Revolution--1775-1783
Scholarship Act of 1890
---
I. Presidential Records, 1891-1906 1891-1906
Arrangement: The Presidential record series is arranged in three subseries: Correspondence, Reports, and Subject Files
Summary: The Presidential Records of Austin Scott include general correspondence, reports, and subject files. The Correspondence files, arranged chronologically, includes incoming letters, memoranda, and statements that deal with a variety of topics (Box 1, Folder 1). The reports are arranged chronologically within report type. The President's Statements to the Board of Trustees (October 1891, March, June, and October 1892, January 1898) review important developments and intiatives for the Board. The most comprehensive report is the October 1891 statement which includes reports from the heads of each academic department. The report of the President of Rutgers College to the Secretary of the Interior (1891, 1892, 1899, and 1900) are printed reports that review progress of the college's Agricultural school (Box 1, Folders 2-4).
The Subject Files are arranged alphabetically by subject, with a miscellaneous category coming last. These files include correspondence and notes concerning financial matters, sample invitations to Presidential receptions, policies and regulations (2 items), programs of events, speeches given by President Scott (as well as notes for speeches), correspondence and related material relating to the Scholarship Act of 1890, and miscellaneous material which includes an 1891-92 Students Absence Report, and an undated copy of the President of Rutgers College Oath of Office (Box 1, Folders 5-11).
A. Correspondence files:
Box
Folder
1
1
General Correspondence, 1891-1906
B. Reports:
Box
Folder
1
2
President's Statement to the Board of Trustees and supporting materials, October 27, 1891
3
President's Statements to the Board of Trustees, March 1, 1892; October 25, 1892; June 21, 1892; January 13, 1898
4
Report of the President of Rutgers College to the Secretary of Agriculture and the Secretary of the Interior, 1891, 1892, 1899, 1900
C. Subject Files:
Box
Folder
1
5
Financial correspondence and notes, 1892-1904
6
Invitations to Presidential receptions, n.d. [ca. 1891-1906]
7
Policies and regulations, 1897, n.d.
8
Programs, 1891, 1895, 1897, 1910
9
Speeches and speech notes, 1898, 1911, n.d.
10
Scholarship Act of 1890: Correspondence and related material, 1893-1894
11
Miscellaneous, 1891-1892
II. Personal Papers, 1865-1928 1865-1928
Arrangement: The personal papers are arranged in three subseries: Correspondence, Subject Files, and Graduate School Material
Summary: The Personal Papers of Austin Scott include correspondence, subject files, and graduate school materials. The correspondence files are arranged chronologically and include incoming letters to Scott which either precede or follow his presidency of Rutgers College (Box 1, Folder 12).
The Subject Files are arranged alphabetically by title. These files include biographical material on Dr. Scott and his wife's family, certificates of membership, the New Jersey entry for the Encyclopaedia Britannicawritten by Scott, a petition of the citizens of New Brunswick requesting Scott to run for commissioner, memorial tributes on Scott, research notes on various aspects of New Jersey history, and notes on the state's requirements for suffrage and the holding of public offices (Box 1, Folders 13-17; Box 2, Folders 1-2).
The Graduate School records are arranged alphabetically, with the bulk of the material consisting of notes recorded by Austin Scott in German while attending Frederich Wilhelm University in Berlin. Also included is an unidentified manuscript (written in German) which may possibly be a graduate essay, a listing of Scott's course of study in Berlin, and certificates of attendance, as well as an index to lectures and instructors at Frederich Wilhelm University, 1871-1872, and the summer of 1876 (Box 2, Folders 3-11).
A. Correspondence:
Box
Folder
1
12
Correspondence, 1865-1890, 1907-1921
B. Subject Files:
Box
Folder
1
13
Biographical material, 1883, 1885, n.d.
14
Certificates of membership: American Historical Association and Board; New Jersey Sanitorium for Tuberculous, 1898, 1902
15
Encyclopedia Britannica, 11th edition:Entry on New Jersey written by Scott in 1921, 1921
16
Memorial tributes to Ausin Scott, 1922, 1926
17
Petition requesting Austin Scott to become a candidate for Commissioner of the City of New Brunswick, N.J., March 15, 1915
Box
Folder
2
1
Research notes: New Jersey history, 1886
2
Research notes: William Paterson; Survey ofd state's requirements for suffrage and holding elected office, n.d.
C. Graduate School Material:
Box
Folder
2
3
Graduate School lecture notes: Ancient Rome (Theodor Mommsen), 1871-1872
4
Graduate School lecture notes: Annals of Livy (Theodor Mommsen), 1871-1872
5
Graduate School lecture notes: Greek history (Johann Gustav Droysen), 1871-1872
6
Graduate School lecture notes: Rome under Diocletian and his successors (Theodor Mommsen), 1871-1872
7
Graduate School lecture notes, April 22-June 24, 1872
8
Graduate school lecture notes, April 25-May 1872
9
Graduate School lecture notes and papers, n.d. [ca. 1871-1873]
10
Graduate School record of courses and certificates of attendance, 1871-1872
11
Index to lectures and instructors at Frederich Wilhelm University, 1871-1872; Summer, 1876
III. Clippings, 1871-1937 1871-1937
Summary: This series includes newspaper clippings, arranged chronologically, which cover Austin Scott's presidency of Rutgers College and reports of his death (Box 2, Folder 12).
Box
Folder
2
12
Clippings, 1871-1937