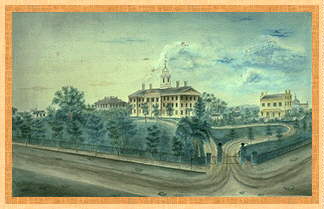 R-MC 002
By Daniel Weiss
February 2006
Special Collections and University Archives, Rutgers University Libraries
Finding aid encoded in EAD Version 2002 by John Bangert, October 2006
---
Creator:
Doolittle, Theodore Sandford, 1836-1893
Title:
Guide to the Theodore Sandford Doolittle Papers, 1857-1930
Dates:
1857-1930 (inclusive); 1857-1893 (bulk)
Quantity:
1.2 cubic feet (3 manuscript boxes)
Abstract:
A reformed minister and educator, Theodore Sandford Doolittle served as professor of Rhetoric, Logic, and Metaphysics at Rutgers College. He also lectured on arechitecture, served as Vice President of the college, and acting President. The collection consists of three boxes arranged into a single series. The first includes clippings of lecture notices and miscellaneous articles, a printed syllabus for "Lectures on Architecture;" correspondence, obituaries, clippings and related letters, and portrait photographs of the adult Doolittle at various ages. The other two boxes contain works by Doolittle, including clippings of editorials from the weekly newspaper Christian at Work. There are also manuscript copies of A Historical Sketch of Rutgers College, and handwritten sermons.
Collection No.:
R-MC 002
Language:
English
Repository:
Rutgers University Libraries. Special Collections and University Archives
---
Theodore Sandford Doolittle (1836-1893) was born November 30, 1836 in the town of Ovid, in Seneca County, New York. His father was Solomon Doolittle, a merchant in that town, and his mother was Caroline Saterlee. One known relative was second cousin, William F. Doolittle, M.D., of Cleveland, Ohio.
Doolittle became a student at Rutgers College in 1855, and graduated with highest honors as a member of the class of 1859. As a student, he was the last editor of the Rutgers College Quarterly literary magazine. He attended the Theological Seminary in New Brunswick, New Jersey (1859-1862), and was licensed to preach in the Flatlands Dutch Reformed Church in Brooklyn, New York in 1862. Doolittle received his D.D. degree from Wesleyan University in 1872, and his L.L.D. degree from Union College in 1891.
Doolittle served as the pastor of the Flatlands Dutch Reformed Church in Brooklyn, New York from 1862 to 1864. He joined the faculty of Rutgers College in 1864, accepting the chair of Rhetoric, Logic, and Metaphysics. He also taught and lectured on Architecture, Fine Arts, and Elocution. Doolittle became Vice President of Rutgers (1890-1893) and served briefly as acting President (September, 1890-February 4, 1891). He remained associated with the college until his sudden death on April 19, 1893.
A prolific writer, critic, and reviewer, Doolittle served as associate editor of the New York based weekly newspaper, Christian at Work (1873-1893). In that capacity he wrote many editorials, as well as the Sunday School Series column, which consisted of weekly essays on various biblical passages and other related issues. Some of his other writings include A History of Rutgers College for the U.S. Bureau of Education (1876); articles about Rutgers College for various encyclopedias (Appleton's, Johnson's); and a series of letters from European cities, published in 1875 in the Christian Intelligencer called, "Across the Continent."
More biographical material may be found in "Material for General Catalogue," (Box 1, File 3) and in A History of Rutgers College, by William H. S. Demarest (available at Special Collections and University Archives, and other Rutgers Libraries, Call no. LD4753.D4).
---
The Theodore Sandford Doolittle papers consist of three boxes. Box 1 is an assortment of items, including clippings of lecture notices and miscellaneous articles (1875-1889), a printed syllabus for "Lectures on Architecture;" correspondence, obituaries, clippings and related letters, and portrait photographs of the adult Doolittle at various ages. Boxes 2 and 3 contain various series of works written by Doolittle, including clippings of editorials from the weekly newspaper Christian at Work (1887-1893). There are also manuscript copies of A Historical Sketch of Rutgers College, and numerous handwritten sermons (1868-1893).
There are several items apparently missing from the collection, including materials referred to by William F. Doolittle in the "Materials for General Catalogue" (Box 1, File 3), such as the European letters, the encyclopedia entries, and others. A large part of the collection is newspaper clippings, most of which are aged and becoming brittle. The bulk of the clippings are from Christian at Work, 1866-1894, which was published and edited by J. N. Hallock, 39 & 41 Park Row, Times Building, New York. That paper was continued by Christian Work 1895-1902, which merged with the Evangelist to form Christian Work and Evangelist 1903-1914, and then absorbed the New York Observer, finally becoming Christian Work again, for 1915-1925. No other paper or microform copies are reported.
---
The papers of Theodore Sandford Doolittle are arranged chronologically in one series and contained in three manuscript boxes.
---
Additional collections in Rutgers University holdings pertaining to Doolittle include:
Civil War journal, memoranda, and notes, (May 7-June 19, 1864): documenting Doolittle's service as a delegate of the U.S. Christian Commission in army camps, hospitals, etc., chiefly in Virginia. One volume. Located in the Rutgers University Library Manuscript Collection (classification "A (Doolittle);" Ac. 99).
Watercolor of Rutgers College, painted by Doolittle while a student (late 1850s). Rutgers Archives photograph collection (R-Photo) (oversize), also reproduced in The Rutgers Picture Book : an Illustrated History of Student Life in the Changing College and University, Available at Special Collections and University Archives and other Rutgers libraries, Call no. LD4756.M63 1985.
Americana, January, 1922, page 40, volume 16. (formerly American Historical Magazine). Alexander Library (Bound Periodicals), Rutgers University. Brief Biographical sketch.
Minutes of Rutgers Board of Trustees Meetings (1890-1893; especially September 1890-February 1891).
The Memorial Story of America. Mabie, H. W., and Bright, M. H. (1892). Philadelphia, Pennsylvania: J.C. Winston and Co. Contributed chapters "The Story of the Civil War" (page 293, Chapter 16); and "School, College, and University" (page 461, Chapter 25). Rutgers University Libraries' copy is held in the Library Annex Storage Facility, on Busch Campus, call no. E178.M112Me
---
Researchers can facilitate access to related materials in other collections by searching the Rutgers University Libraries' online public catalog (IRIS) and other union catalogs under the following index terms used for people, organizations, and subjects represented in these records.
Personal Names
Doolittle, Theodore Sandford, 1836-1893
Doolittle, William F.
Drury, John B.
Corporate Names
Christian at Work
Historical Sketch of Rutgers College
Nederlandse Hervormde Kerk (Dutch Reformed Church)
Rutgers College—Faculty
Rutgers College—History
Rutgers University—History
Subject Headings
Architecture—Study and teaching—19th century
Clergy—New Jersey
Faculty (Education)—New Jersey
Genre and Form Headings
Photographs
Sermons
---
Theodore Sandford Doolittle Papers, 1857-1930 (R-MC 002), Special Collections and University Archives, Rutgers University Libraries.
---
This container list gives the titles of the folders and their locations in the numbered boxes that comprise this collection.
I. Personal Papers, 1857-1893, (bulk 1857-1893)
Box
Folder
1
1
Lecture Notices, 1875-1888
Lecture reviews are newspaper clippings from various national locations, including San Francisco (1875), and Warwick, Rhode Island. Lecture topics included Architecture of the Ancient Greeks and Romans, Architecture of the Ancient Egyptians, and Bible Scenes (c. 1888).
2
Miscellaneous Articles by Doolittle; Syllabus for "Lectures on Architecture," 1875-1889
Three copies of "Syllabus of Lectures on Architecture" (each 56 pages), clippings of newspaper articles by Doolittle on a variety of subjects, letters to the editor, etc.
3
Correspondence, 1857-1930, (bulk) 1857-1893
Letters (circa 1857) from Doolittle to his friend John B. Drury, completed form for Material for General Catalogue of Rutgers University," biographical data supplied by second cousin William F. Doolittle, M.D. of Cleveland, Ohio, dated December 4, 1930. Doolittle's handwritten copies of his Valedictories in Latin (1859).
4
Photographs (Portraits), circa 1859-1890
Twenty-three portrait photos of Doolittle at various ages. Photographers represented are R. M. Boggs (226 Burnett Street, New Brunswick, New Jersey); D. Clark (4 King Block, and 355 George Street, New Brunswick, New Jersey); Scott (New Brunswick, New Jersey); and Pach Brothers (935 Broadway, New York).
5
Obituaries, circa 1893
Clippings from various papers regarding Doolittle's death, including Christian at Work(April 27, 1893; May 4, 1893), New York Tribune (April 20, 1893), Christian Intelligencer (April 26, 1893); Targum (April 26, 1893). Letter from J. S. Gardner to Mrs. Doolittle, regarding the Resolution of Consistory of the Dutch Reformed Church of Flatlands, Long Island in reference to Doolittle's death; letter from J. E. Elmendorf, Esq. to Mrs. Doolittle (September 29, 1893) regarding a check from Rutgers Board of Trustees in amount of $750 as expression of appreciation for T. S. Doolittle. Leather bound book with "Professor T. S. Doolittle" embossed on the cover; "Minutes of the Faculty of Rutgers College upon the death of Prof. Theodore Sandford Doolittle," honoring his service to the institution; book is noted: "Bought at Doolittle sale, June 1921, Alex S. Graham."
6
Highlights of Doolittle's Career; Clippings in a Bound "Autograph" Book, 1863-1883
Box
Folder
2
1
Editorials from the Christian at Work, 1887-1888
2
Editorials from the Christian at Work, 1889-1890
3
Historical Sketch of Rutgers College, c. 1883
Manuscript copy is approximately 80-100 pages. File includes two printed copies of Chapter 9 ("Rutgers College"), authored by Doolittle, from The Reformed Church in America. A printed copy of Chapter 16 ("The Architecture of the Reformed Church"), also by Doolittle from the same book, including approximately fifteen drawings and photographs of churches.
4
Manuscript Sermons, 1868-1893
Approximately forty-seven sermons, including dates and places they were delivered, many delivered more than once; references to the appropriate hymns and psalms that should accompany each sermon. Many were delivered in Kirkpatrick Chapel, at Rutgers College, and in churches in Newark, and Jersey City, New Jersey, and Philadelphia, Pennsylvania. Accompanying the sermon is a handwritten genealogy of Roman Emperors from 47 b.c. to 100 a.d., with notes and comments.
5
Published Sermons, 1865
Box
Folder
3
1
The Sunday School: International Series, from Christian at Work, 1875-1886
2
The Sunday School: International Series, 1887-1888
3
The Sunday School: International Series, 1889
4
The Sunday School Series, 1890
5
The Sunday School Series, 1891-1893