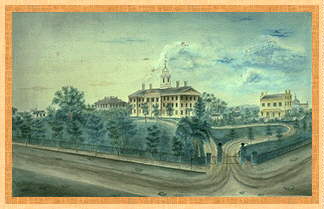 R-MC 045
By Julia Fox
May 1998
Special Collections and University Archives, Rutgers University Libraries
---
Creator:
Cooper, Lane, 1875-1959
Title:
Guide to the Papers of Lane Cooper
Dates:
1881-1958
Quantity:
5.4 cubic feet (12 manuscript boxes)
Abstract:
This collection consists of the personal papers and memorabilia of Lane Cooper, scholar, writer, a graduate of Rutgers College (1896) and professor of English language and literature at Cornell University, 1902-1943.
Collection No.:
R-MC 045
Repository:
Rutgers University Libraries. Special Collections and University Archives
---
Lane Cooper, eminent scholar, teacher and writer, was born in New Brunswick, New Jersey on December 14, 1875, the youngest of five children born to Jacob and Mary Linn Cooper. Two of the children born of this marriage died in their youth, Elizabeth (Bessie) and Theodore Woolsey. Lane Cooper's older brothers, William J. (1868-1941), a mechanical engineer with the Pennsylvania Railroad, and Drury Walls (1872-1957), a patent lawyer and a director of International Business Machines Corporation, as well as director of Republic Steel Corporation, were both successful in their own right. Jacob Cooper, Lane's father, reared in poverty on a farm in Southern Ohio, managed through heroic efforts to attain a doctorate from the University of Berlin (1854) and Master's degree from Yale in 1855. As Professor of Greek and Philosophy at Rutgers College, he was considered to be one of the most impressive academic figures of his day. Lane inherited his father's hunger for learning, and both were governed throughout their lives by a passion for knowledge.
An exemplary grammar school student at Bayard Street School (1886-1887), Lane Cooper received the Reward of Merit (1886) in addition to attaining perfect attendance and excellence in deportment. When he graduated from Rutgers College Preparatory School in 1892, he gave the commencement program oration. While attending Rutgers College (1892-1896), he received the Hart Prize in British Literature (1894) for his essay on Alexander Pope; the John Parker Memorial Prize for Mental Philosophy; the Upson Prize in American Literature for his essay on Nathaniel Hawthorne; the Appleton Memorial Prize in Moral Philosophy (1895); and the Classical Prize in Logic for his essay entitled, Does the Content of Logic Correspond with the Content of Existence? (1896). He became a member of Phi Beta Kappa during his college years and maintained an active role in his fraternity, Delta Phi, throughout his life. An athlete at Rutgers College, Lane held track records and retained an interest in this sport; in fact, he delighted to extreme old age in acting as inspector at intercollegiate contests. At the commencement ceremonies for his own graduation in 1896, Lane was excused from speaking in order to deliver the Rhetorical Honor Oration.
After graduating from Rutgers in 1896, Lane Cooper studied medicine for a year at the College of Physicians and Surgeons of Columbia University. Finding that medicine was not suited to his interests, he transferred to the Yale Graduate School to study English Literature under Albert Stanburrough Cook and received a Masters degree in 1898. Cook had been a former student of Jacob Cooper, Lane's father, at Rutgers College. Despite differences in their ages, Jacob, Lane and A.S. Cook developed both personal and professional attachments that lasted all their lives. Lane considered the teachings of his father and A.S. Cook to be the most influential in effecting his life.
Lane Cooper taught school for a year (1898-1899) at St. James School in Washington County, Maryland, but decided his preference was to teach at the collegiate level. He returned to Rutgers College and obtained a Masters degree in 1899. He then attended Friedrich-Wilhelms-Universitat in Berlin and Universitat von Leipzig (1899-1902), where he earned a Ph.D. degree in English philology. For his dissertation, he wrote The Prose Poetry of Thomas de Quincey in German and in English. His class notebooks, written in German, English and French, attest to his linguistic abilities. While in Berlin, he studied under Alois Brandl and, in Leipzig, under R.P. Wulker. Later in life, he expressed a sense of gratitude to the geographer, Fredrich Ratzel, another influential teacher during his studies at Leipzig. During the summers, he traveled extensively to Zurich, France, and Greece visiting museums and libraries. He kept notes on archaeological digs, his impressions and the people he met.
In the spring of 1902, Lane returned to the United States and accepted an instructorship at Cornell University under James Morgan Hart. Encouraged by Hart, he developed a course in Wordsworth that led to his studies of the poet and eventually to the writing of the Concordance to Wordsworth (1911) which resulted in universal acclaim of scholars. Lane Cooper gained successive distinctions throughout his years at Cornell. He became an Assistant Professor in 1906, a Professor in 1915, and, in 1927, Chair of his own department, which he called The Comparative Study of Literature. He retained the title of Professor of the English Language and Literature, and he continued to train graduate students for the teaching of English. He served as John Wendell Anderson Professor of English from 1941 to 1943, when he became Professor Emeritus.
Throughout his career, Lane Cooper never took a sabbatical and often taught summer sessions as visiting professor at the University of Illinois (1914), Stanford University (1918), and the University of California (1919). In 1921, Rutgers bestowed upon him an Honorary degree of Doctor of Letters, and Wesleyan bestowed the Doctor of Humane Letters upon him in 1943.
In a summary of his life, which appeared in Necrology of the Faculty of Cornell University, 1959-1960 written by several of his former students, Lane Cooper was described as "a man of imposing presence and sedate carriage, he made an immediate impression by his fine and glancing eyes, beneath a domed forehead and in later years, silvered auburn hair, and by a resonant voice that penetrated with an edge of tension." He invested everything he did with an aura of importance and radiated interest and was seen to enhance the value of life. It has been written that he possessed a "magnetism" in his personality.
He was above all a teacher, considered to be one of the "greatest of his generation in America." He was adept at bringing students of "rather indifferent equipment to a high sense of the value of literature, learning and of a disciplined mind." He was mainly committed to the search for superior students for whom he could encourage and "urge forward with missionary zeal" to develop themselves through higher studies. Lane Cooper believed that an effective teacher must also be a productive scholar, thus he kept up a stream of publications throughout his career. He authored twenty seven books and nearly 200 articles (many of which were culled from the courses he taught), and he wrote essays and addresses on educational, moral and literary subjects. Two Views of Education (1922) and Evolution and Repentance (1935) and Late Harvest (1952), culled from a long series of essays and addresses, were published in collective volumes and reflect his views. His concordances of Wordsworth, Boethius, and the Latin Poems of Milton have been considered indispensable tools of scholarship. Recognizing that many students were failing to gain an adequate knowledge of Latin and Greek, he developed a course and produced for it a translation of Aristotle's Poetics, and Aristotle's Rhetoric, in addition to a number of dialogues of Plato. Other courses he developed include: a course in Middle English; a course in Principles of Literary Critics; a course in Dante in English; a course I Methods based on Boeckh, in German; a seminary course in Chaucer; and, in his later years, the General Reading course.
Lane Cooper never married. He retired after 41 years of teaching, thereafter devoting his time to his farm in the Town of Lansing. Prior to his death on November 27, 1959, he created a will, which included a document that made the residuary estate The Lane Cooper Fund in The New York Community Trust. The memorial came into existence in 1960. His wish was that income from the fund would provide the scholarship for "young students of superior character, attainments and promise, preferably young men . . . who aspire to become teachers in higher institutions of learning, of those subjects which are called the 'humanities'." It was his expressed hope that his estate would foster the memory, aims, and attainments of his father, Jacob Cooper, and of his cherished friend, A.S. Cook. The first six commemorative scholarships that have been established include two each at Cornell, Rutgers and Yale, the three universities where these men are memorialized.
A profound testimony to the memory of Lane Cooper by his former students can be seen on the campus of Cornell University, where the Lane Cooper Window is located on the south side of Sage Chapel. Saint Boethius (c.475-525), is depicted in this stained glass memorial. The window bears the following quotation from the Psalms, which was selected as "reflecting" Lane Cooper's temperament": "Light is sown for the righteous and gladness for the upright in heart."
---
This collection consists of personal papers and memorabilia of Lane Cooper, scholar, teacher, writer and humanitarian, from childhood to his death in 1959. The collection is approximately 5.4 cubic feet in size, and is composed of one carton (1 cubic foot) and 11 manuscript boxes.
The Papers of Lane Cooper are divided into five series: Childhood souvenirs and mementos (1 cubic foot and 3 folders); files documenting scholastic and travel experiences (2 cubic feet, 19 folders); literary works files (1.6 cubic feet, 34 folders); personal effects and papers of Mary Linn Cooper (0.4 cubic foot, 3 folders); and Lane Cooper miscellany files, including speeches, courses and correspondence (0.4 cubic foot, 3 folders).
The files containing personal souvenirs and mementos include: original school awards; report cards; penmanship notebooks; family pictures; obituaries; personal items, such as Mary Linn Cooper's glasses; playbills; and, historical events information, such as articles on Susan B. Anthony, the assassination of Abraham Lincoln and other events of interest to Lane Cooper. Files documenting courses and literary works are in draft form.
---
These records are organized into five series: I. Childhood Souvenirs and Mementos. II. Scholastic & Travel Experiences. III. Literary Works. IV. Mary Linn Cooper. V. Correspondence, Speeches, Lectures and Class Notes.
---
Personal Names
Aristotle--Poetics
Cook, Albert S. (Albert Stanburrough), 1853-1927
Cooper, Jacob
Cooper, Lane, 1875-1959
Cooper, Mary Linn
Wordsworth, William, 1770-1850--Concordances
Corporate Names
Cornell University--Faculty--Biography
New York Community Trust. Lane Cooper Fund
Rutgers College--Faculty--Biography
Rutgers College--History--19th century
Rutgers College--Students--19th century
Yale University--Students
Subjects
Aesthetics--Early works to 1800
Education--Study and teaching
Europe--Description and travel
Greek drama (Comedy)--History and criticism
Literature
Literature--Study and teaching
Poetry--Early works to 1800
Poetry--History and criticism
Rhetoric, Ancient
Style, Literary
---
I. Childhood Souvenirsand Mementos 1 cubic ft. 3 folders
Arrangedrandomly
Contains scrapbook hand-made and given to Lane Cooper. Contents are arranged randomly. Small children's story books and poem books; membership cards; information on family members, including Dr. E. S. Cooper from the Eye, Ear and Orthopedic Infirmary and Cooper Medical College, the legacy of Dr. E. S. Cooper; information and obituary of Ruth Cooper, Lane's aunt; biographical information and pictures of Elijah and Elizabeth Cooper (deceased 1710); other obituary notices, including Theodore Woolsey Cooper (July 10, 1879), Elizabeth Cooper (April 4, 1877), and Levi Cooper, a prominent surgeon on Pacific Coast (February 18, 1902); newspaper clipping from the Fredonian, New Brunswick, August 7, 1883, detailing a visit to Jacob Cooper by a committee consisting of Governor Blair, President James Angell (the late minister to China), the Honorable James B. Joy and Rev. Dr. Duffield from the University of Michigan. The article states Dr. Cooper had been elected Professor of Metaphysics and the Philosophy of Religion at the University of Michigan. The potential loss to Rutgers College of this esteemed Professor is discussed. Lane also preserved an article by his father entitled: How tospend a $100,000,000, which was in response to Mr. Carnegie. There is also a picture of Jacob Cooper.
Box
Folder
1
1
Scrapbook: Made by Mary Cooper and given to Lane Cooper. Contains:
Includes Cooper family obituaries, Cooper family genealogy, and a photograph of Jacob Cooper.
2
Newspaper clippings: Drury W. Cooper; Jacob Cooper, 1883; n.d.; Dr. Levi Cooper
3
Alumnae Catalogue of Oxford College, Oxford, Ohio; Oxford Female College: lists Ruth Cooper, Class of 1852
4
Diplomas, 1896-1902
Includes Rutgers College, B.A. (1896); Columbia College of Physicians and Surgeons, Certificate (1897); Yale, M.A. (1898); Rutgers College, M.A., Honorary (1899); Universitat von Leipzig, Ph.D. (1902)
5
Grammar school spelling and penmanship notebooks, n.d.; grade report, 1882
6
The Lane Cooper Fund, The New York Community Trust, n.d.
II. Scholastic and TravelExperiences 19 folders
Arranged chronologically
School information includes: Report cards; notebooks; notification of the Hart Prize in British Literature (June 16, 1894); letter of admission to Rutgers College (June 23, 1892); commencement programs from Yale (1898); Cornell track, baseball programs, freshman banquets (1911) where Lane Cooper spoke on business; copy of the President's report (1903-1904); roll call and marking books from Cornell University (in consecutive order from 1902-1943). Notebooks from Berlin and Leipzig are written in German.
Travel documents and memorabilia consists of diaries, most with scanty notations; souvenirs on sight seeing throughout Europe and cruises include names and addresses of persons met, dance cards, Lane Cooper's passport; and cashbooks.
Box
Folder
2
1
Bayard Street School, 1886-1887
2
Rutgers College Preparatory School, 1883; 1885; 1891-1892
3
Rutgers College, 1892-1896; 1899; 1921
4
St. James School, 1898-1899; 1902
5
Friedrich-Wilhelms-Universitat zu Berlin, 1899-1900
6
Universitat von Leipzig, 1901-1902; class notebooks in German/English
7
Universitat von Leipzig, 1901-1902; class notebooks; cash account books
Box
Folder
3
1
Travel Memorabilia, 1900-1902
2
Travels: Zurich, France, Greece 1900-1902
3
Letter: Teaching Assistant Universite De France, 1902
4
Travels: Scandinavia, 1904
Box
Folder
4
1
Personal, Memorabilia 1898-1939
Box
Folder
5
1
Cornell University: Souvenirs
2
Cornell University: Role call and marking books, 1902-1943
3
Cornell University: Poems by Abby Finley Potts, 1920
4
Cornell University: Professorship, class lists, 1941-1954
5
Wesleyan University, 1943
Box
Folder
6
1
Yale University: Notebooks: N.D.; Physiology: 1896; 1897
2
Yale University: Memorabilia
III. LiteraryWorks 34 folders
Works are arranged alphabetically. Correspondence and reviews are arranged chronologically.
These files primarily contain drafts of major works by Lane Cooper. Many are incomplete. Letters of agreement with publishers, as are personal acknowledgments of gifts of books or appreciation of his published works are included. Reviews of published works are alsoincluded in this series.
Box
Folder
7
1
Joseph Quincy Adams, 1881-1946
2
Louis Agassiz as a Teacher, n.d.
Louis Agassiz as a Teacher,n.d.
Aristotle, Galileo and theTower of Pisa, n.d
Box
Folder
7
3
Drafts and galley proofs
4
Clippings, letters
5
Galileo and Scientific History: A Rebuttal, 1936
6
Aristotle on the Art of Poetry, n.d.
7
The Poetics of Aristotle,n.d.
8
Aristotelian Papers, n.d.
9
An Aristotelian Theory of Comedy, n.d.
Box
Folder
8
1
Artistic Ordering of Life: Preface to draft, 1957
2
William Bartram in Dictionary of American Biography, 1926
3
Book Reviews, 1901-1946
4
A Cambridge History of American Literature, 1907-1918
5
A Cambridge History of English Literature, 1907-1914
6
Certain Rhythms in the English Bible, n.d.
7
Concordance of Boethius, n.d.
8
Concordance of the Latin, Greek, and Italian Poems of John Milton, 1923-1953
9
Concordance to the Poems of William Wordsworth, 1905-1947
10
Concordance of the Works of Horace, 1913-1918
11
Dr. Johnson on Oats and Other Grains, 1926-1937
12
Evolution and Repentance, 1935
13
Fifteen Greek Plays, 19[?]
14
Grace and Truth, 1943-1947
Box
Folder
9
1
The Greek Genius and its Influence, 1917-1945
2
Auaptla (Hamartia) Again And Again: Correspondence, 1945-1948
3
It's Time to Remember, 1952
4
Late Harvest, n.d.
5
The English Bible: Letters, 1952
6
Lexicon to Elizabethan Drama, 1917-1918
7
Loss And Gain, 1922
8
Matthew Arnold's Essay on Wordsworth, 1926
9
Methods and Aims in the Study of Literature, 1916
10
Plato, 1936-1938
11
Poe's Concordance, n.d.
Box
Folder
10
1
The Prose Poetry of Thomas de Quincey: German version of Dissertation, 1902
2
The Prose Poetry of Thomas de Quincey, English, 1901-1902
3
The Rhetoric of Aristotle, 1947-1948
4
Sapping Plato or Plato and the Dinner, 1936
5
Joseph T. Shipley, 1947; 1948
6
Ten Greek Plays, N.D.
7
Treatment of Beauty, 1947
8
The Verbal "ornament" (KO MO) in Aristotle's Art of Poetry, 1938
9
Two Views of Education: Review, 1924
10
What is Man?, n.d.
IV. Mary Linn Cooper 3 folders
Arranged chronologically
Personal effects of Lane Cooper's mother are included in these files: Bills; correspondence regarding distribution of Mrs. Cooper's estate; information related to her Willand family pictures; books; copies of Lane Cooper's letters to his mother while traveling and studying in Europe (1896-1910); one letter to Lane Cooper's Aunt Ruth; and, letters from friends on Mrs. Cooper's funeral.
Box
Folder
11
1
Mary Linn Cooper: Family Information
2
Mary Linn Cooper: Papers
3
Mary Linn Cooper: Personal Possessions
V. Correspondence, Speeches, Lecture and Class Notes 3 folders
Correspondence arranged alphabetically. Speeches arranged chronologically.
The correspondence file consists of incoming letters from publishers and friends between 1882 and 1952. Most relate to published works, but several are from family members. There is one letter from Joseph Quincey Adams (1910).Drafts of speeches (1927-1958) include: Our Plato, Philadelphia, April 28, 1939; Platonic Strife, Ann Arbor Michigan, April 29, 1927; Everyman's Library address (19?); Science, May 21, 1958, location unknown. Course notes include drafts for the General Reading course Lane Cooper developed at Cornell University; lecture notes; class notes on English 22, Seminar in Wordsworth, Byron, Milton, on Greek Literature, Earlier Poems of Coleridge; the Principles of Literary Criticism; miscellaneous writings on Plato; on Hymns; on Hume's of the Understanding; and The spirit of the Puritans. All are undated.
Box
Folder
11
4
Lane Cooper: Incoming Correspondence, 1882-1952
Box
Folder
12
1
Speeches, 1927-1958
2
Courses (lecture and class notes)