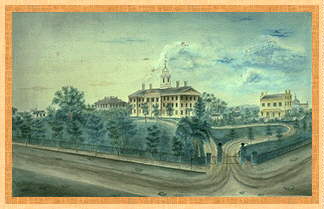 RG 30/C1
By Laurie Sansone
April 26, 1992
Special Collections and University Archives, Rutgers University Libraries
---
Creator:
Rutgers University Psychological Clinic
Title:
Inventory to the Records of Rutgers Psychological Clinic,
Dates:
1929-1965
Quantity:
1.2 cu.ft. and 5-16mm motion picture reels
Abstract:
The records of the Rutgers Psychological Clinic derive from the files of Dr. Anna Starr, director. Included are clinical and annual reports, 1929-1957; files pertaining to activities in connection with psychological testing, speech therapy, World War II, Robert Wood Johnson Foundation gifts, Freshmen Reading Surveys, and the 25th anniversary conference; statistics, 1929-1945, including an in-depth analysis of Middlesex County (NJ) patients, 1929-1935; files, including a dissertation by R. Wayne Jones (Univ. of Miami, 1963) and a master's thesis (Rutgers, 1937) pertaining to the Rutgers Drawing Test, a nonverbal intelligence test developed by Anna Starr that was administered to pre-school children; clippings, brochures and other publications pertaining to the clinic; some records and writings by Henry E. Starr, the first director. Five motion picture films documenting testing of children are also included.
Collection No.:
RG 30/C1
Language
English.
Repository:
Rutgers University Libraries. Special Collections and University Archives.
---
In October, 1929, university president John Martin Thomas and the Board of Trustees of Rutgers University established the Rutgers Psychological Mental Hygiene Clinic as a distinct department. It was anticipated that the Rutgers Clinic would provide facilities for psychological examination and extended case studies. It would also provide intensive study and cooperate with the psychology department to offer graduate instruction. The clinic was funded by a state grant made through the Commissioner of Institutions and Agencies, William J. Ellis.
The first director of the clinic was Henry E. Starr, chairman of the psychology department. During the Depression, clinic facilities became increasingly utilized as a laboratory for advanced courses. The state grant was eventually withdrawn due to the financial problems of the times, and the clinic became part of the the psychology department.
In 1944, Dr. Anna Starr, widow of the late Henry E. Starr, became director of the clinic. She had worked with her husband since the clinic's founding and continued to direct it until her retirement in 1956.
---
The records of the Rutgers Psychological Clinic are the papers maintained by Dr. Anna Starr, director of the clinic from 1944 to 1956. Included are clinical and annual reports dating from 1929-1957, statistics, files pertaining to the Rutgers Drawing Test, newspaper clippings, early history of the clinic, surveys, memos, speeches and correspondence pertaining to the twenty-fifth anniversary of the clinic, records on the participation in war activities, material relating to psychologiccal testing and speech therapy, films of testing methods, a scrapbook of clinic activities, and some records and writings of Henry E. Starr, director of the clinic from 1928 to 1935.
The collection consists of seven series: reports, statistics, the Rutgers Drawing Test, the Rutgers Psychological Clinic, Subject File, the personal scrapbook of Anna Starr and five film reels of testing methods.
With the Report Series are annual reports of the growth and development of the clinic. Also incuded are memos between both Anna Starr and her husband Henry Starr and those to the presidents and deans of the university. The Statistics Series includes in-depth correlation and analyses, especially of patients who lived in Middlesex County. In the Drawing Test series can be found a file on Margaret Moreau and her work in Latin America. Robert Wayne Jones' dissertation is included in this series. In the Rutgers Psychological Clinic series is a manuscript of Anna Starr's that chronicles the clinic's history. The Subject File series contains newspaper clippings and photographs. The War Activities folder includes letters by the Red Cross in Lyons, France, commending Dr. Starr for her contribution to children suffering the psychological effects of war. The Personal Scrapbook series contains an entire history of public opinion on the clinic and Dr. Starr. The film reels series is an invaluable record of Dr. Starrs testing methods and demonstrates her work with patients.
---
Personal Names
Ellis, William J.
Field, Marshall
Findley, Warren George, 1906-
Jones, R. Wayne, 1937-
Miller, James G.
Moreau, Margaret
Pratt, Carroll C.
Prior, Gertrude
Starr, Anna Spiesman
Starr, Henry E., d.1935
Stevens, Margaret C.
Upton, Morgan
Corporate Names
American Psychological Association. Committee on War Services to Children
New Jersey. Defense Committee
Red Cross
Robert Wood Johnson Foundation
Rutgers Psychological Clinic
Rutgers University--Faculty
Rutgers University--History--Sources
Rutgers University. Department of Psychology
Rutgers University. Psychological and Mental Hygiene Clinic
University of Newark. Newark Reading Clinic
Subjects
Child development
Children--intelligence testing
Civil defense
Clinical psychology--Study and teaching
Community mental health services--Middlesex County--New Jersey
Developmentally disabled children--Education (preschool)
Health services administration--New Jersey
Mental illness
Mental retardation
Motion pictures--New Jersey
Nonverbal intelligence tests
Preschool tests
Projective techniques
Psychological tests
Psychology--Study and teaching--New Jersey
Statistics--New Jersey--Middlesex County
United States--Armed forces--Recruiting, enlistment, etc
Visual perception
Vocational guidance
Women social scientists
---
I. Reports, 1931-1947 (31 folders)
Arranged chronologically.
Includes annual reports of the Rutgers Psychological Clinic from 1931-1957. Also includes summaries of activities for each year, numbers of cases by county, graphs memos to deans, referrals and recommendations.
Box
Folder
1
1-27
Annual Reports, 1931-1957
28
Clinical Reports, 1928-1954
29
Early Reports: First drafts and copies, 1929-1946
30
President's Reports, 1929-1930, 1930-1931, 1931-1932
31
Status of Rutgers Psychological Clinic, 1946-1947
II. Statistics, 1929-1956 (3 folders)
Arranged alphabetically and chronologically.
Includes in-depth assessment evaluations of the Rutgers Psychological Clinic; numbers of diagnoses of cases in Middlesex County, numbers of towns from which cases came, statistical summaries and percentages of certain diagnoses, breakdowns of nationalities, age and religious affiliations, and various barcharts, graphs and maps.
Box
Folder
1
32
Middlesex County, 1929-1935
33
Rutgers Psychological Clinic: First report, first 1,000 cases, 1929-1945
34
Rutgers Psychological Clinic, 1956
III. Drawing Test, 1937-1965 (5 folders)
Arranged alphabetically.
Includes copies of the actual Rutgers Drawing Test, original scores of drawing test "A," correspondence between Anna Starr and Margaret Moreau about drawing test, a dissertation by Robert Wayne Jones on the drawing test, published journal articles about the drawing test and a thesis by Margaret C. Stevens written on the drawing test.
Box
Folder
1
35
Jones, Robert Wayne, May, 1963
36
Moreau, Margaret--Correspondence, 1964-1965
37
Original Scores, Test "A," n.d.
Box
Folder
2
1
Drawing Test--References to, 1944-1969
2
Stevens, Margaret C.: Thesis, 1937
IV. Rutgers Psychological Clinic, 1929-1956 (4 folders)
Arranged alphabetically.
Includes a manuscript by Dr. Anna Starr that ws later published, titled "Rutgers Psychological Clinic, A Chronicle and Interpretation" (1929-1956), a folder with writings on the early history of the clinic, a clinic study, and a list of theses written between 1930 and 1937 that concern the clinic.
Box
Folder
2
3
Chronicle and Interpretation, 1929-1956
4
Early History, 1928-1945
5
Facilities Study, 1945-1947
6
Theses Completed, 1930-1937
V. Subject File, 1929-1961 (9 folders)
Arranged alphabetically by subject.
Includes original newspaper clippings, notes on the Edith A Harper Speech Research Grant, Freshman Reading Surveys from 1934 and 1953, memos on future plans for the clinic between Dean Ernest McMahon and Anna Starr, notes on the Robert Wood Johnson Foundation Gifts, brochures concerning Anna Starr and Henry E. Starr.
Box
Folder
2
7
Clippings, 1929-1957
8
Edith A. Harper: Speech Research Grant, 1956
9
Freshmen Reading Surveys, 1934, 1953
10
McMahon, Ernest Edward: Memoranda on future of the clinic, Feb.-May, 1956
11
Robert Wood Johnson Foundation Gifts, 1950-1956
12
Starr, Anna and Henry E.: Brochures, 1956, 1960, 1961
13
Starr, Henry E.: Publications, 1922-1935
14
Twenty-Fifth Anniversary: Speeches and Correspondence, 1954
15
War Activities, 1941-1944
VI. Personal Scrapbook, 1938-1956 1 folder
Not yet arranged or photocopied.
Includes newspaper clippings chronicling the publicity on the clinic as wel as clippings concerning events in Dr. Starr's life.
Box
Folder
2
16
Scrapbook--Clippings, Personal and re: Clinic, 1938-1956
VII. Film Reels, (n.d.) 5 reels, 4 of which are color, 16mm, 300'
Arranged by provenance.
Includes films on Dr. Starr's testing methods on certain patients; reel I is entitled "Jack and Rosanna as clinic helpers;" reel II, "Paula;" reels III and IV are entitled "Barbara;" reel 5 is entitled "Joyce Dupo.
Box
Folder
3
1
"Jack and Rossana as Clinic Helpers," n.d.
2
"Paula," n.d.
3-4
"Barbara," n.d.
5
"Joyce Dupo," n.d.