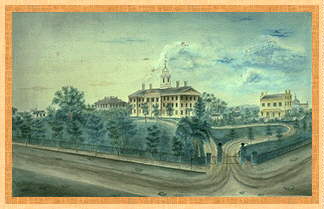 RG 39/A2a
Inventory to the Records of the Centennial Football Game Committee, 1967-1971
By Douglas Baldwin, Michael Maziekien, and Stephen Ring
May 2006
Special Collections and University Archives, Rutgers University
Finding aid encoded in EAD, version 2002 by Doug Baldwin, December 2006
---
Creator:
Rutgers University. Department of Athletics. Centennial Football Game Committee
Title
Inventory to the Records of the Centennial Football Game Committee,
Dates:
1967-1971
Quantity:
1.6 cubic feet (4 manuscript boxes)
Abstract:
The records described in this inventory are those of the Centenial Football Game Committee from 1967 to 1971. The Cetennial Football Game Committee was formed by the Rutgers University Athletic Deparment to have planning oversight for the September 1969 centennial football game between Rutgers University and Princeton University. These records relate primarily to the planning logistics surrounding the game and other events that took place during that weekend in commemoration of the first intercollegiate football contest between Rutgers and Princeton on November 6, 1869.
Collecton No.:
RG 39/A2a
Language:
English
Repository:
Rutgers University Libraries. Special Collections and University Archives
---
The Centennial Football Game Committee was formed in 1968 as a result of the celebration of the 100th anniversary of the first "official" collegiate football contest between Rutgers University and Princeton University on November 6, 1869. The game itself had little resemblance to the style of American football that would be evolved later in its presently recognizable form. Nonetheless, it is generally recognized that this game between the two schools was the first collegiate football game played. College football eventually evolved into a major American sport with a significant national following.
In 1969, Albert W. Twitchell was the University Athletic Director and was thus instrumental in the planning and development of the activities and events that would commemorate this historic event at Rutgers.
The Committee worked with Princeton University to schedule a centennial game which would be played on September 27, 1969. They also were involved in the planning of various events which took place over a two day period including a reenactment of the original game between Rutgers and Princeton, a centennial dinner and awards ceremony and a centennial parade. Another event which took place the day before the game was a ceremony to introduce a stamp, issued by the US Postal Service, in commemoration of the centennial college football season. Additionally during half-time of the 1969 centennial game, Rutgers organized a vintage car show.
A significant amount of planning and logistics went into conducting both the centennial game was well as the various other commemorative events. The committee was involved in correspondence with advertisers, event participants, and the press through out the planning aspects of the events. The game and football season were heavily covered by both the local and national press.
The game was a national event and various celebrities and significant political figures were invited, including President Richard Nixon, who declined because of his schedule. Astronaut Buzz Aldrin was also invited but unable to attend the game.
Rutgers played the centennial game on September 27, 1969 and defeated visiting Princeton University 29-0.
---
The records in this collection represent those created by the Centennial Football Committee from the planning through the end of the centennial college football season in 1969. The collection contains correspondance, financial records, newspaper clippings and programs related to pre-game commemorative activies, as well as both the centennial season of college football and the centennial game between Rutgers and Princeton.
---
The material is arranged into two series as follows:
---
The following collections contain additional records related to the centennial season of Rutgers football:
Inventory to the Records of the Rutgers University Director of Intercollegiate Athletics (Albert W. Twitchell), 1931-1977
Rutgers University Oral History Archives of World War II. Guide to the Rutgers University Veterans History Collection, 1942-1995; bulk 1942-1946 (R-MC 074).
---
Personal Names
Aldrin, Buzz
Aldrin, Jean
Barnes, Eppy
Friesell Jr., William H.
Greider, Eugene
Gross, Mason W.
Hughes, Richard J.
McCandless, Jake
Nelson, Harriet
Nelson, Ozzie, 1906-1975
Nixon, Richard M., 1913-1994
Twitchell, Albert W.
Unger, Leslie H.
Corporate Names
ABC Television Network
Colgate University
Columbia University
Cornell University
General Motors Corporation. Chevrolet Motor Division
L.G. Balfour Company
Lehigh University
National Association of College Directors
National Collegiate Athletic Association
Pitney Bowes Inc.
Princeton University
Rutgers University
United States Naval Academy
University of Connecticut
Subject Headings
Princeton University—Athletics
Princeton University—Football
Rutgers University—History
Rutgers University. Department of Athletics
Rutgers University—Football
Geographic Places
Piscataway Township (N.J.)
---
When citing material from this collection please reference: Invetory to the Records of the Rutgers University Department of Athletics Centennial Football Game Committee, 1967-1971(RG 39/A2a), Special Collections and University Archives, Rutgers University Libraries.
---
Werden, Lincoln. "Rutgers Trounces Princeton 29-0, in Centennial Game". New York Times, September 28, 1969.
White, Gordon S. "Rutgers Shows Good Balance for Centennial Game". New York Times, September 7, 1969.
---
I. Correspondance and Logistics, 1967-1971.
Arrangement: Folders in this series are arranged alphabetically. Items within folders are arranged chronologically. There are two exceptions to this arrangement. The items contained in box 3, folder 1, and in the correspondance folders of former Rutgers Athletic Director Al Twitchell are arranged alphabetically.
Summary: This series largely includes correspondance between members of the Football Centennial Committee and various entities involved in planning, organization and publicity coverage regarding both game and centennial commemorative events. Also included in this series are meeting minutes for the committee, publicity press kits, logistics records, schematics, flyers, members lists, roster information and other promotional materials for game and commemorative events. Some individual items of interest include letters from Richard Nixon, Ozzie and Harriet Nelson, and Jean Aldrin (wife of astronaut Buzz Aldrin). There is also correspondance in this series between the Centennial Football Game Committee and New Jersey governer Richard J. Hughes.
Box
Folder
1
1
1869 Game Reenactment and Centennial Game Memorabilia Correspondence, 1969 February to May
2
1969 Football Season (Colgate vs. Rutgers) Correspondence and Notes, 1969 November
3
1969 Football Season (Columbia vs. Rutgers) Correspondence, 1969 June to October
4
1969 Football Season (Cornell vs. Rutgers) Correspondence, 1969 May to October
5
1969 Football Season (Lehigh vs. Rutgers) Correspondence, 1969 July to October
6
ABC Television Correspondence, 1969 April to May
7
Correspondence of Al Twitchell, A to D, 1969 Aug to Oct
8
Correspondence of Al Twitchell, E to H, 1969 Aug to Oct
9
Correspondence of Al Twitchell, I to L, 1969 Aug to Oct
10
Correspondence of Al Twitchell, M to P, 1969 Aug to Oct
11
Correspondence of Al Twitchell, Q to T, 1969 Aug to Oct
12
Correspondence of Al Twitchell, U to Z, 1969 September to December
13
Alumni Correspondence, 1968 December to 1969 August
14
Balfour, L. G. Correspondence and Promotional Materials, 1968 October to 1970 July
15
Band and Glee Club Correspondence, 1969 January to October
16
Barnes, Eppy. Correspondence, 1969 June to July
17
Billboard Correspondence and Oversize Flyer, 1969 January to May
18
Captains Correspondence and Rosters, 1969 July to October
19
Celebrities Correspondence, 1969 May to December
20
Centennial Dinner Correspondence, 1969 January to April
21
Centennial Parade Plans and Correspondence, 1969 March to September
22
Centennial Press Kit, [1969]
23
Centennial Queen Correspondance, 1969 July to September
24
Centennial Season Ephemera and Correspondence, 1969
25
Centennial Trophy, 1969 February to July
26
Ceremony Timetables Miscellaneous Notes, 1969 September
27
Chevrolet Correspondence and Promotional Materials, 1968 January to 1969 October
28
Color Guard Notes, Undated
Box
Folder
2
1
Finances Correspondence and Notes, 1968 February to 1969 September
2
Football Centennial Fund Correspondence, 1968 July to 1969 January
3
Friesell Jr., "Red" (William H.). Correspondence and Notes, 1969 June to 1970 April
4
Gross, Mason W. Correspondence, 1969 March to August
5
History Happened Here Award Correspondence, 1968 December to 1969 July
6
Highlight Reel Correspondance, 1969 January to July
7
"History of Rutgers Football" Correspondence, 1969 September to 1971 March
8
Holiday Inn Correspondence and Notes, 1969 April to September
9
Holy Cross Correspondence, 1969 October
10
Hughes, Richard J. (Governor) Correspondence, 1969 June to September
11
Luncheon Correspondence and Notes, 1969 July to 1970 July
12
McCandless, Jake. Correspondence, 1969 June
13
Minutes, 1967 March to 1969 September
14
National Association of College Directors of Athletics Pamphlets, 1969 July
15
NCAA Publications and Centennial Correspondence, 1968 May to 1969 September
16
Navy vs. Rutgers Hall of Fame Game, 1968 January to 1969 October
Box
Folder
3
1
Nelson, Ozzie. Correspondence, 1969 June-September
2
Physical Plant Instructions, 1969 August
3
Pitney-Bowes Centennial Slug Correspondence and Samples, 1969
4
Presidential Correspondence, 1969 December
5
Press Book, Press Release, and Press Box Instructions, 1969
6
Press Box Pass Correspondence, 1969 January to September
7
Publicity Material and Press Releases, 1969 April to September
8
Radio Broadcast Letter, 1969 August
9
Stamp Commemoration Correspondence 1969 January to October
10
Stamp Commemoration Miscellaneous Papers, [1969]
11
Television, 1968 December to 1969 October
12
Ticket Request Correspondence, 1969 March to September
13
Unger, Les. Correspondence and Notes, 1968 July to 1969 May
14
Vintage Cars (Antique Car Half Time Show), 1969 July to October
II. Newsprint and Programs, 1969.
Arrangement: Folders in this series are arranged alphabetically, with the exception of the folders containing the football programs which are arranged chronologically. Item in the folders in this series are arranged chonologically.
Summary: This series contains newspaper clippings and gameday football programs for the games played by the Rutgers University football team during the 1969 season. Among the newspaper clipping are advertisements for the centennial game and centennial commemorative events, articles written about the centennial season, game and events, and a weekly series of articles and features titled '100 Years of Football' run by the Daily Home News celebrating the centennial of college football.
Box
Folder
4
1
"100 Years of Football", 1969 September to December
2
Football Program: Rutgers v. Princeton, 1969 September
3
Football Program: Rutgers v. Cornell, 1969 October
4
Football Program: Rutgers v. Lehigh, 1969 October
5
Football Program: Rutgers v. Navy, 1969 October
5
Football Program: Rutgers v. Columbia, 1969 October
6
Football Program: Rutgers v. Connecticut, 1969 November
7
Football Program: Rutgers v. Colgate, 1969 November
8
Newspaper Advertisements, 1969 August to September
9
Newspaper Advertisements, 1969 September to October
10
Newspaper Items, 1969 April to September
11
Newspaper Items, 1969 September to October
12
Newspaper Items, 1969 October to November
13
Newspaper Items, 1969 December