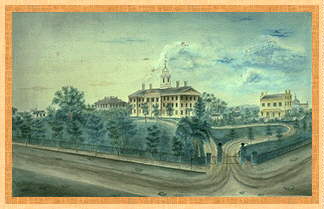 RG N2/02
By Dragana Drobnjak and Alexandra Deangelis
October 2015
Special Collections and University Archives, Rutgers University
Finding aid encoded in EAD, version 2002 by Kyle Downey, October 2015 and Tara Maharjan, January 2020
Special Collections and University Archives, Rutgers University received an operating support grant from the New Jersey Historical Commission, a division of the Department of State.
---
Creator:
Black Organization of Students (Rutgers-Newark)
Title:
Records of the Black Organization of Students(B.O.S.) at Rutgers--Newark
Dates:
1967-1973
Quantity:
1.5 cubic feet (4 manuscript boxes)
Abstract:
The Records of the Black Organization of Students (BOS), a student organization established on the Rutgers Newark campus, boxes largely relate to the group's demands for administrative and admission changes in 1969, and include documentation surrounding the takeover of Conklin Hall by BOS members. Also included are records regarding University policy and changes, correspondence from University staff, student groups and community members, newspaper clippings and several articles written by BOS members regarding the "black experience" at Rutgers University.
Collection No.:
RG N2/O2
Language:
English
Repository:
Rutgers University Libraries. Special Collections and University Archives
---
The Black Organization of Students (BOS) was founded by Rutgers University-Newark students Richard Roper and Joe Browne during the academic year of 1967 and 1968. Both students were politically active within the city and felt "in their role as students,...obliged to compel the University to recognize that it must serve the black community in Newark". (page 35)
The majority of black students at Rutgers Newark were brought up and lived in the city and felt that the University operated under a white power structure as much as the city did. In July of 1967, racial tensions in Newark peaked, culminating in civic unrest and resulting in an intervention by the National Guard that left 21 black individuals dead.
BOS member Vicki Donaldson believed that the unrest in 1967 "created a climate where there was a need to redefine what was significant" (page 36). For the BOS, change was tangible through the mission "that programs for our Black people will be for Black progress, by Blacks, through black self-help". (page 35)
After learning that of the first one thousand applicants for the following year only twenty-seven were black, the BOS felt that Rutgers Newark, under Acting Dean Malcolm Talbott, was perpetuating the bias and repression against the black community within the University, as were city officials in Newark.
Supported by Faculty Adviser Robert Curvin, in April of 1968 the BOS attended a session of the Rutgers Newark Board of governors, where Roper presented nine "proposals" of the BOS.
The proposals called for the recruitment of more black students and faculty; the establishment of new departments of Urban Affairs, Urban Education, and African Affairs; an interdisciplinary institute to study the Newark community; more black literature in the library; and a scholarship fund for black Newark students.
The BOS redefined their demands. On February 6th, 1969 the BOS interrupted a meeting between Talbott, faculty, and administration and presented Talbott with their new list of twelve demands, including that the Rutgers Board of Governors and the President increase the number of black students accepted into the University, as well as remove the school's Administrative Director and Assistant, Robert K. Swab and C.T. Miller, due to accusations of racist policies. They gave Talbott two weeks to respond.
After receiving an unsuitable oral response and disagreement from Talbott on February 20th, the BOS carefully planned a takeover of Conklin Hall. During the early hours of February 24th, the BOS entered Conklin Hall with food, bedding, tools, and other equipment, securing the doors with heavy chains within the following four minutes. During their occupation, the BOS renamed the site "Liberation Hall" for the duration of the protest.
During the occupation, the BOS waited to hear the University's response. University President Mason Gross actively engaged with the students' grievances. On February 27th, Conklin Hall was evacuated under an agreement signed with Gross for the University to recruit more black personnel in admissions offices and the Dean of Students office, faculty, and counselors; increase funding for remedial programs and scholarships; admit black students from Newark with high school diplomas; and establish a Black Studies program (page 37).
In their protest, members of the BOS led the largest student racial group movement on Rutgers University's three campuses. Due to their action and demands, the Educational Opportunity Fund Program at Rutgers-Newark was created, which in turn increased enrollment of African-Americans University-wide.
McCormick, Richard Patrick. (1990). The Black Student Protest Movement at Rutgers. New Brunswick, NJ: Rutgers University Press.
---
The papers of the Black Student Organization (1967-1973) are contained in four manuscript boxes. Boxes one and two are sorted alphabetically, while the contents of the third box are sorted chronologically in two binders.
Within the boxes are papers pertaining to Black Organization of Students' (B.O.S.) listed of demands asked of Rutgers University in February 1969, historical accounts and newspaper clippings (including The New York Times, The Observer and Rutgers Targum) regarding the demands, B.O.S.'s 3-day (Feb. 24-27) occupation of Conklin Hall of Rutgers campus, oppositional student initiatives, and various correspondence occurring during this busy period.
Additional resources include documents of other minority (and other such related) student groups on campus including, Puerto Rican, Italian and Polish American. Also included are documents pertaining to the demand that Robert Swab and C.T. Miller resign as well as the resulting follow-up, including a lawsuit initiated by the two.
Included (in box 3) The Star Ledger newspaper clipping reporting, "Rutgers Opens Its Doors to All Disadvantaged" provided that they hold a high school diploma. Box 4 contains two chronologically sorted binders documenting BOS related activity between February 6 and April 9, 1969.
---
The arrangement of the Records of the Black Organization of Students is maintained in the original order of the collection at the time of its creation. The folders are arranged alphabetically by each box. Box 4 contains material that was originally housed in two large binders that was damaging to the records inside. The records were broken into parts representing their original order, as represented in the finding aid.
---
Personal Names
Abram, Morris B.
Barrett, Lydia
Biunno, Robert
Blake, Maria DeCastro
Bregstein, Richard
Browne, Joseph
Charles, Bernard L.
Clark, Edward, L.
Clifford, Earle W.
Coleman, Jack
Costello, Kevin
Curvin, Robert
Curvin, Robert
Davis, Mildred E.
Delgado, Manuel
Donaldson, Vickie
Druesne, Barry
Dungan, Ralph A. (Ralph Anthony), 1923-2013
Eichleberger, Reverend
Englehard, Charles
Fanlason, Elizabeth
Ferrara, John
Green, Leon
Grobman, Dean
Hazelwood, Harry Jr.
Hughes, Richard J. (Richard Joseph), 1909-1992
Jackson, Peter
Johnson, LeRoy
Jones, Roy L.
Kells, H. R.
Kershaw, David
Kinchelow, Howard J.
Kinchelow, William L.
King, Louis D.
Kramer, George
Kramer, George
La Morte, Anthony P.
Lawrence, Lincoln
McCullough, William
McGrath, Patrick
McGraw, Marvin
McGuire, Dean
McGuire, Edward
Merker, Irwin
Miller, C.T.
Mitchell, Roger
Mr. Dowdell
Pawa, Irwing
Pine, Charles
Puryear, Alvin Nelson
Richardson, George
Robertson, Charles A.
Robinson, Alex
Roper, Richard W.
Scott, Diane
Settle, Charles
Sills, Arnold
Slaughter, Thomas F.
Snead, Lynda
Snell, Harrison
Swab, Robert
Szuch, Clyde A.
Talbott, Malcolm D.
Thigpen, Phillip
Tyler, Peggy J.
Walmsley, Richelle
Weiker, Walter
Weiss, Richard
Weusi, Dawud
White, Joseph
Williams, Junius W., 1943-
Williams, Myrna
Wright, William Jr.
Corporate Names
Essex County Community College
Ford Foundation
Princeton University
Rutgers University
San Francisco College
---
Records of the Black Organization of Students (B.O.S.) at Rutgers-Newark, 1967-1973 (RG N2/02), Special Collections and University Archives, Rutgers University Libraries.
Additional processing of this collection was completed by Alexandra Deangelis in January 2020.
---
This section provides descriptions of the materials found within each series. Each series description is followed by a container list, which gives the titles of the "containers" (for example, folders, volumes, or cassettes) and their locations in the numbered boxes that comprise the collection. The availability of any digital items from a container is indicated with a hyperlink.
Records, 1967-1973, (bulk 1931-1973)
Box
Folder
1
1
Admissions Office & Policies, 1968-1969
Includes various letters showing how the University will recruit black students, how standards of acceptance have changed, and includes recruitment funding notes.
2-6
Conklin Hall Takeover: Demands- Negotiations February 1969 , 1969
Includes B.O.S. list of "Demands", "Unmet Demands", and "Admission Demands." Also included is "Rutgers University" (Case for Dramatic and Immediate Change) by Roy L. Jones, which includes "Black Feeling" by Myrna Williams, as well as "Equal Opportunity Activities: A Summary".
7
General Correspondence, 1968
Includes proposals, list of grievances and demands, statement, letters of decisions made, request for removal of fence and letters about replacement.
8-10
Letters & Articles Opposed to University Response to BOS Demands, 1969
11-12
Letters & Articles Approving University Response to BOS Demands, 1969
Box
Folder
2
1
Admission of Minority Students, 1968-1969
Includes newspaper clippings of data in regards to enrollment of minority students among other items.
2
Admissions Office Response to BOS Demand to Remove Swab & Miller, 1969
Includes correspondence between Rutgers University (Clyde A. Szuch) and Apruzzese and McDermott counselors at law representing Robert K. Swab and C. T. Miller. Also included is a memo (dated February 18, 1969) from the admission staff and work study students stating their resignation at the Newark Rutgers campus.
3
Alumni Relations Office: Minority Alumni- Recruiting, 1963-1968
Includes the meeting summary of Alumni on Admissions of Minority Group Students (May 7, 1968), Information on Negro Alumni of Rutgers Colleges (1931-1964), and the Newark Rutgers Black Alumni Association Statement.
4
Black Faculty & Staff Association, 1971
Correspondence pertaining to the search for candidates for positions on the Newark Campus.
5
Bond Issue Allocation: Newark Protest Against Distribution, 1969
Includes press release papers and newspaper clippings among other records.
6
BOS February & March, 1969
7
BOS April, 1969-1971
Includes a variety of papers, including newspaper clippings, correspondence, statements of the negotiations between Rutgers University and the Black Organization of Students, as well as the "Proposal of Black Organization of Students" written by Joseph Browne and Robert Curvin. Also included is the Black Organization of Students "Proposal for Drug Policy".
8
BOS Undated, Undated
9
Brandeis University Black Student Protests, January 1969
Includes newspaper clippings, "Eleven Days at Brandeis: A Report on the Student Seizure of Ford Hall," dating from January 8-18, 1969 as well as a letter to the members of Brandeis community written by Morris B. Abram.
10
Dungan: Split Off of Newark from Rutgers, 1969
Includes newspaper clipping copies and various correspondence.
11
Martin Luther King Scholarship Fund, 1968-1969
Includes various correspondence pertaining to the Martin L. King Scholarship Fund, including from those that have provided funding.
12
McLeod vs Rutgers, 1971
13
Newark College of Engineering Newspaper, 1969
14
N.J. Legislature's Hearings on Rutgers, June 1969
Includes the lengthy transcript of the "Public Hearing before Senate and Assembly Committees on Education" June 9, 1969.
15
Puerto Rican Student Groups, 1969
Includes "University Response to Puerto Rican Organization Demands".
16
Search Committees: Dean of Student Affairs & Assoc. Dean of Student Life, 1969
Includes names of the search committee and the job description papers.
17
University Policy on Disruptions, 1967-1973
Box
Folder
3
1
Black Studies Department, 1969-1973
Includes papers of the inauguration of the Afro-American or Black Studies Department.
2
Board of Governors, 1968-1969
3
BOS Funding- "Observer" Incident, November 1970
Included are various newspaper clippings and BOS correspondence.
4
Minority Students' Demands, May 1971
Includes papers from The Association of Black Law Students, Third World Organization, Black Organization of Students, Organization of Black Evening Students, Black Experience and Puerto Rican Organization.
5
Miscellaneous, 1968
Includes an excerpt from the Report for Action by the Governor's Select Commission on Civil Disorder State of New Jersey, A Call For Action From the Law School, a proposal for "A Summer Program For Participation of Black Student Association Members in Urban League Programs, as well as "How Black is Black" reprinted from August, 1968 issue of Wilmington's People's Pulse, "In Behalf of Black Studies" by Phillip Thigpen and various correspondence.
6
N.J. Dept. of Higher Education, Undated
Includes a statistical report of "Minority Representation on Governing Boards of New Jersey Public Institutions of Higher Education".
7
University Agreement, March 1969
Includes chronological papers pertaining to BOS. Also included is a list of missing items.
Box
Folder
4
1
Binder I part 1, February 1969
2
Binder I part 2, February 1969
3
Binder I part 3, March 1969
4
Binder I part 4, March 1969
5
Binder II part 1, March 1969
Chronologically contains papers pertaining to BOS and is continuation of binder 1.
6
Binder II part 2, March 1969