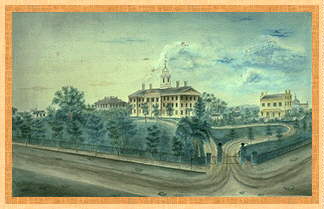 R-MC 048
By Althea E. Miller and Matthew Lyons
May, 2000
Special Collections and University Archives, Rutgers University Libraries
Finding aid encoded in EAD, version 2002 by Catherine Carey, June 2013
Special Collections and University Archives, Rutgers University received an operating support grant from the New Jersey Historical Commission, a division of the Department of State.
---
Creator:
Begin, James P.
Title:
Guide to the James P. Begin Papers
Dates:
1956-1985; 1967-1974 (bulk)
Quantity:
10.1 cubic feet (25 manuscript boxes)
Abstract:
Textual materials gathered and created by James P. Begin that document the establishment and early history of faculty collective bargaining and the establishment of a chapter of the American Association of University Professors (AAUP) at Rutgers University.
Collection No.:
R-MC 048
Language
English
Repository:
Rutgers University Libraries. Special Collections and University Archives.
---
The James P. Begin Papers document the establishment and early history of faculty collective bargaining at Rutgers University. In 1970, the Rutgers faculty certified the American Association of University Professors (AAUP) as their official bargaining agent. This made Rutgers one of the first four-year institutions in the United States to establish faculty collective bargaining and only the second AAUP bargaining unit in the country. The collection consists of materials compiled by Professor James P. Begin in the 1970s as part of a research study on faculty bargaining at New Jersey institutions of higher education.
The Rutgers chapter of the AAUP was founded in 1922. Like its parent organization, the Rutgers AAUP traditionally concentrated on issues of academic freedom and tenure, but during the 1960s the chapter broadened its scope and played a visible role addressing such issues as faculty salaries and benefits and university governance. By 1969, with about 25 percent of Rutgers faculty as members, the Rutgers AAUP chapter was one of the largest and most active in the US.
The first collective bargaining agreements for professional employees in higher education were established in the late 1960s, first in two-year institutions and then in four-year colleges. Faculty at different institutions selected different bargaining agents, including the National Education Association (NEA), the American Federation of Teachers (AFT), the AAUP, and independent organizations. In 1968, New Jersey's Public Law 303 authorized collective bargaining for public employees. Faculty at the state colleges quickly unionized in elections won by the New Jersey Education Association (affiliated with the NEA).
In February 1970, the AAUP won certification at Rutgers without an election, by gathering signature cards from a large majority of Rutgers faculty. Little conflict accompanied the campaign and the Rutgers administration readily recognized the AAUP as the faculty bargaining agent. By mutual consent, the AAUP and the administration defined the bargaining unit to cover all Rutgers campuses and to include all full-time academic staff members engaged in teaching or research, as well as library and extension staff holding equivalent rank. Faculty members in the Rutgers Medical School and Law School were included, although Medical School faculty soon formed their own bargaining unit when the school was separated from Rutgers and merged with other state medical and dental schools. In 1972, teaching assistants and research assistants were added to the Rutgers faculty bargaining unit.
The AAUP's certification at Rutgers took place in the context of a number of factors. Rutgers expanded rapidly during the 1960s and was transformed into a large research university. The organizational structure at the New Brunswick campus was in flux under the "Federated College Plan," a complicated arrangement intended to centralize the traditionally autonomous colleges. In addition, the state government was increasing centralized oversight of Rutgers, which had been a private institution until 1945 and retained a great deal of autonomy for two decades thereafter. All of these changes raised questions about the lines of authority affecting faculty, and faculty's relationship with the administration and role in decision-making.
By the end of the 1960s, the AAUP at Rutgers, unlike the NEA or AFT, had established itself as a prominent advocate for faculty concerns, and had developed an informal working relationship with the university administration. In addition, several writers have suggested that Rutgers faculty members favored the AAUP, based largely among faculty at prestigious institutions, over the NEA or the AFT, based largely among schoolteachers. Establishing a Rutgers bargaining unit under the AAUP preempted a possible move to include Rutgers faculty in a combined bargaining unit with the state colleges. The Rutgers administration, too, was concerned to preserve the university's autonomy and special status within the state higher education system.
The AAUP's early contracts with Rutgers were simple and brief, focusing primarily on salaries and grievance procedures. The contracts themselves were supplemented by ongoing consultations on a range of issues, with results formalized in letters or memoranda of agreement, and in University policy changes. This relationship was complicated by the administration's conflict with state agencies over who had authority to bargain with Rutgers employees, and for a time the AAUP pursued separate negotiations with both the Rutgers administration and state negotiators.
Professor James P. Begin initiated a study of faculty collective bargaining at Rutgers University in 1970, when he was an assistant research professor at Rutgers University's Institute of Management and Labor Relations. The project, part of a larger study on faculty bargaining at New Jersey institutions of higher education, lasted for several years and was funded by the U.S. Office of Education, the Carnegie Corporation, and Rutgers University. Begin served as principal investigator; several other faculty members and graduate students collaborated with him on the project at different times.
The study explored the origins and impact of faculty bargaining. It examined the reasons faculty organized, faculty expectations of collective bargaining and attitudes both before and after establishment of a bargaining unit, the historical context, internal and external forces that influenced faculty organizing, and collective bargaining's impact on educational policy, the faculty personnel system, long-term planning, and traditional faculty governance. Begin and his colleagues surveyed faculty members, conducted interviews, observed bargaining sessions, and compiled and analyzed documents. Begin continued to gather materials related to the project into the early 1980s.
---
The James P. Begin Papers consist of 10.1 cubic feet of materials stored in 25 manuscript boxes. This collection spans the period 1956 to 1985, inclusively, while the bulk of the collection covers the years 1967-1974. The papers consist of materials gathered and created by James P. Begin beginning in 1970 as part of a research project on faculty collective bargaining in New Jersey. Although this grant-funded project examined faculty bargaining at a number of New Jersey colleges and universities, Professor Begin only retained the materials relating to Rutgers University, which now form this collection. A few materials on New Jersey legislation or collective bargaining at other institutions were included; these provide contextual or comparative background for understanding events at Rutgers.
The papers consist of textual records including correspondence, contracts, minutes, legislative bills and statutes, budget-related materials, newsletters, notes from interviews and meetings, press releases, court documents, grant proposals, charts and tables, publications, newspaper clippings, and articles and talks in both draft and final form. Papers, articles, notes, and drafts of papers by James Begin can be found throughout this collection.
These papers document all the components involved in Begin's research on faculty collective bargaining at Rutgers. In addition to documents collected and notes taken at meetings and interviews, the papers also include materials concerning the research design and methodology such as grant proposals, interview planning, variables, and conceptual models.
Topics covered include the history and impact of faculty contract negotiations, informal agreements outside the contract, state legislation pertaining to higher education, policies and trends, the process of establishing a bargaining unit, non-faculty bargaining units, unions, relations and conflicts within bargaining units and within management, attitudes of administration and faculty toward the bargaining process, structure and scope of bargaining, contractual rule changes, implementation of rule changes by external agencies and internal management, factions and coalitions, grievance procedures and cases, redistribution of authority, resource allocation, the University Senate and other governance structures, psychological climate, and faculty collective bargaining at other institutions and in other countries.
All of the series are arranged alphabetically by folder title. The present arrangement was imposed by the processors, but is largely based on a thematic system of file organization that Begin and his colleagues developed for the faculty bargaining research project. These papers arrived in no discernable order. Approximately half of the records had, at some point, adhered to the filing system implemented by Begin and his staff. This system is outlined in the document "Analytical Files: Suggested Organization," and can be found in Series XI (Research Study). Some of the files bore numerals and letters corresponding to categories and subcategories of the "Analytical Files" system; other files did not.
In the present arrangement, series categories I-IX duplicate the nine categories detailed in "Analytical Files." Each of these series includes both (a) files whose title bore the Roman numeral corresponding to that category in the "Analytical Files" system; and (b) files that did not bear a Roman numeral, but whose contents were judged by the processors to fall within that category. Within each series, all materials that bore a subcategory label have been grouped together under the subcategory's title. Materials that did not bear a subcategory label have simply been included under the general series. The original order of the subcategories are not followed in the current arrangement. Series X-XV are artificial categories created by the processors as a way to organize files that did not fit into Series I-IX.
In several cases where publications were found whole and without notation, they were removed from the papers and placed into the Special Collections general collection for greater access.
These papers are restricted in access due to the confidentiality issues involved in individual faculty grievance cases. While much of the confidential material has been removed and destroyed, more materials of a questionable nature still reside in the papers.
---
The Begin papers are arranged in the following fifteen series:
---
Personal Names
Begin, James P.
Corporate Names
American Association of University Professors. Rutgers University chapter.
Rutgers University--Administration--History--20th century.
Rutgers University--Employees--Salaries, etc.
Rutgers University--Faculty--Salaries, etc.
Rutgers University--Governance.
Rutgers University--History--Sources.
Rutgers University. University Senate.
Subjects
Collective bargaining--College employees--New Jersey.
Collective bargaining--College teachers--New Jersey.
Collective labor agreements--College teachers--New Jersey.
College teachers' unions--New Jersey.
Universities and colleges--New Jersey--Administration.
Universities and colleges--New Jersey--Faculty.
---
Begin, James P. "Faculty Bargaining at Rutgers University. "Paper delivered at the University of Chicago, November 1971.
Begin, James P., Theodore Settle, and Paula Alexander. Academic Bargaining: Origins and Growth. New Brunswick, NJ: Department of Research, Institute of Management and Labor Relations, Rutgers University, 1977.
Carr, Robert K., and Daniel K. Van Eyck. Collective Bargaining Comes to the Campus. Washington, DC: American Council on Education, 1973.
Epstein, Leon D. "Governing the University: The Campus and the Public Interest. "San Francisco, CA: Jossey-Bass Publishers, 1974.
Garbarino, Joseph W., with Bill Aussieker. Faculty Bargaining: Change and Conflict. New York: McGraw-Hill Book Company, 1975.
Lee, Barbara Anne. The Effect of Faculty Collective Bargaining on Academic Governance in Four-Year Colleges and Universities. Ph.D. dissertation, Ohio State University, 1977.
---
I. Origins of Faculty Bargaining, 1956-1978
Arrangement: Alphabetically by folder title.
Summary: Papers and drafts of papers by James Begin and others, memos, handwritten and typewritten notes, correspondence, legislative bills and statutes, budget-related materials, newspaper clippings, press releases, and court documents.
Documents external and internal factors that contributed to the establishment of faculty collective bargaining at Rutgers, and to a lesser extent at other New Jersey public institutions of higher education. Topics include legislation concerning the institutions' relationship to the State, notably the Higher Education Act of 1966 and Public Law 303 (1968); the role of the AAUP and other faculty organizations at the institution, especially before formation of the bargaining unit; the organization of the university, such as the Federated College Plan at Rutgers-New Brunswick; faculty conditions of employment, such as salaries, hiring, and promotion; university finances; and faculty and administration perceptions of faculty bargaining.
Box
Folder
1
1
Administration - Perceptions, 1968, 1973
2
Faculty Perceptions, 1970-1973
3
Historical Role of AAUP Analysis, 1958-1972
4
Legislation: New Jersey Laws regarding Rutgers Higher Education, 1956-1971
5
1971 Higher Education Construction Bond Issue
6-8
Organizational Characteristics - Local, 1967-1978
9
Organizational Characteristics: Rutgers - Camden, 1972-1973
10
Organizational Characteristics: Rutgers - Newark, 1966-1973
11
Rutgers - Newark College of Engineering Recognition and Origins
12
Rutgers - State Colleges: Origins of Bargaining
13
Rutgers - Working Paper 2A - The Emergence of Faculty Bargaining: Case of Rutgers University
II. Recognition Process, 1968-1974
Arrangement: Alphabetically by folder title.
Summary: Articles, memoranda, newspaper clippings, correspondence, notes, newsletters, membership applications, and flyers pertaining to the recognition process by Rutgers University of both faculty and non-faculty bargaining units. These units included Rutgers Chapter of AAUP; Clerical, Office, Laboratory, and Technical Employees (COLT); Campus Police; Rutgers Association of Professional and Administrative Personnel (RAPAP), and the University College Teachers Association (UCTA, representing coadjutant faculty). Recognition process includes procedures, unit determination (faculty and non-faculty), union competition, and national policies and trends. These materials deal for the most part with Rutgers University employees.
This series also includes proposed contracts and agreements between various bargaining agents and Rutgers University.
Box
Folder
2
1
Clerical Union (COLT) Local 1761
2
National Policies and Trends of Union Certified 1st local Involvement, 1969-1973
3
Non-Faculty Units: Administrative Assembly, 1972-1974
4
Non-Faculty Units: AFSCME - 888, 1970-1974
5
Non-Faculty Units: Campus Police, 1970-1973
6
Non-Faculty Units: Proposed Contract between Rutgers and Local (COLT) 1961, 1970-1972
7
Non-Faculty Units: Rutgers Association of Professional and Administrative Personnel (RAPAP), 1969-1972
8
Non-Faculty Units: University College Teachers Association (UCTA), 1969-1972
9
Recognition Procedures, 1968-1972
10
Union Competition, 1972
11
Unit Determination - Faculty, 1969-1972
12
Unit Determination - Faculty: Coadjutants Stoppage, Hearings, 1970-1973
13
Unit Determination - Faculty: Teaching Assistants and Research Assistants, 1970-1973
III. Primary Bargaining Process, 1970-1979
Arrangement: Alphabetically by folder title.
Summary: Memoranda, correspondence, typed and handwritten notes, clippings, reports, press releases, newsletters, contracts, memoranda of agreement, meeting minutes, AAUP ballots, legal documents, drafts or final versions of articles or papers by Begin and others.
Documents the history of contractual negotiations between the AAUP and the Rutgers administration. Topics include the substance of the negotiations; the character of the bargaining relationship; "intra-organization" issues and discussions within the administration (or between the administration and the Board of Governors and state officials) and within the AAUP (or between the AAUP and other members of the faculty); attitudes toward collective bargaining of management negotiators and constituents, and of union negotiators and constituents; bargaining structure (including rules and laws affecting collective bargaining, and definition of the bargaining unit); the scope of negotiations (what issues covered); and the impact of state legislation on faculty bargaining. Also included are some materials regarding faculty collective bargaining at other colleges and universities in New Jersey and other states.
James Begin sat in as observer during many negotiating sessions between AAUP representatives and Rutgers administrators, as well as separate meetings of the bargaining teams by themselves or with mediators. The Series includes Begin's notes from these meetings, as well as written proposals and negotiating points drafted by the two sides. Also included are notes from Begin's interviews and conversations with individual participants in the bargaining process.
Box
Folder
2
14
1970 Agreement
15-16
All Rutgers AAUP Contracts
17
Attitude re Collective Bargaining: Faculty Negotiators
18
Attitude re Collective Bargaining: Management Constituents
19
Attitude re Collective Bargaining: Management Constituents - 2nd Agreement
20
Attitude re Collective Bargaining: Management Constituents - 3rd Agreement
21
Attitude re Collective Bargaining: Management Negotiators
22
Attitude re Collective Bargaining: Management Negotiators - 2nd Agreement
23
Attitude re Collective Bargaining: Management Negotiators - 3rd Agreement
24
Attitude re Collective Bargaining: Union Constituents - AAUP Membership Study: 1971
Box
Folder
3
1
Attitude re Collective Bargaining: Union Constituents - 3rd Agreement
2
Attitude re Collective Bargaining: Union Negotiators - 1st Agreement
3
Attitude re Collective Bargaining: Union Negotiators - 2nd Agreement
4
Attitude re Collective Bargaining: Union Negotiators - 3rd Agreement
5
Attitude Towards Bargaining: Faculty
6
Bargaining History - 2nd Agreement, 1970-1972
7-8
Bargaining History - 3rd Agreement, 1971-1973
9
Bargaining History Information
10
Bargaining Process
11
Bargaining Relationship - 1st Agreement, 1970-1972
12
Bargaining Relationship - 2nd Agreement, 1970-1972
13
Bargaining Relationship - 3rd Agreement, 1971-1973
14
Bargaining Structure
15
Bargaining Structure - 2nd Agreement
16
Collective Bargaining History at Rutgers by AAUP
Box
Folder
4
1-2
Contracts - AFT, Newark College of Engineering, etc.
3
Influence of National
4
Intra-Organization: Management, 1970-1973
5
Intra-Organization: Management - 1st Agreement 1970-1971
6-8
Intra-Organization: Management - 3rd Agreement, 1971-1974
9
Intra-Organization: Management - Cahill's 1st Annual Message January 1971 - Med School & Rutgers
Box
Folder
5
1
Intra-Organization: Union, 1973
2
Intra-Organization: Union - 1st Agreement, 1969-1970
3
Intra-Organization: Union - 2nd Agreement, 1971-1972
4
Intra-Organization: Union - Rutgers: AAUP Membership Drive, 1971-1973
5
Legislative Impact on Faculty Bargaining - Effect of 303
6
Memorandum of Agreement, April 18, 1970
7
Memorandum of Agreement AAUP Newsletter Reporting Settlement, June 26, 1970
8
News Release (Faculty Rutgers Bargaining)
9
Rutgers 1974 Negotiations
10-12
Rutgers 1975-1976
13
Rutgers 1975-76 AAUP Internal Fact Finding, 1972-1975
14
Rutgers 1975-1976 Negotiations
15
Rutgers 1975-76 Negotiations AAUP Meeting, September 3, 1975
16
Rutgers 1975-76 Negotiations Fact Finder's Report, September 1975
17
Rutgers 1975-1976 Negotiations General University
Box
Folder
6
1
Rutgers 1975-76 Negotiations Senate
2
Rutgers/AAUP Scope of Negotiations, 1975
3
Rutgers Contract, 1971-1972
4-5
Rutgers Faculty Negotiations, 1971-1972
6
Rutgers History of Negotiations, First Set, 1970
7-8
Rutgers Negotiations, 1971-1972
Box
Folder
7
1-2
Rutgers Negotiating Package, 1972-1973
3-4
Rutgers Primary Bargaining, 1973-1974
5
Scope
IV. Contractual Rule Changes, 1968-1974
Arrangement: Alphabetically by folder title.
Summary: Correspondence, newspaper clippings, articles, notes, minutes and other materials dealing with any changes from past practice to initial contract between Rutgers University and the bargaining units. Some of the issues covered in this series are salaries, nepotism, insurance, budget, grievance procedures, job action, legislation, benefits, and training.
Of particular significance are the folders on the impact that these issues had on Rutgers University employee relations such as resource allocation, psychological climate, rationalization, and redistribution of authority.
Box
Folder
7
6
Contractual Rules Changes: Past to Initial Strike Pol., February, 10, 1972
7
Faculty Personnel Procedures, Benefits, and Working Conditions
8
Impact: Administration vs. Administration
9-10
Impact: Psychological Climate
11-12
Impact: Rationalization, 1972
13
Impact: Redistribution of Authority, 1970-1974
14
Impact: Resource Allocation, 1973-1974
15
Impact: Salary
16
Issues: Alternate Benefits
17
Issues: Dental Insurance, 1971
18
Issues: Early Retirement, 1972-1973
19
Issues: Financial Exigency, 1973
Box
Folder
8
1
Issues: Library Dispute - Rutgers 1970
2
Issues: Life and Health Insurance
3
Issues: Maternity Leave
4
Issues: Merit Money
5
Issues: Nepotism
6
Issues: Parking
7
Issues: Professor II
8
Issues: Rutgers AAUP and Budget
9
Issues: Rutgers Tenure
10
Issues: Selection and Evaluation of Administers, Deans, and Presidents
11
Issues: Sick Leave
12
Issues: Teaching Assistants and Research Interns - Graduate School Association
13
Issues: Tuition Remission
14
Issues: Union Office Space and Other Union Benefits
15
Issues: Women and Collective Bargaining
V. Alternate Bargaining, 1970-1977
Arrangement: Alphabetically by folder title.
Summary:Minutes, COREO by-laws, clippings, handwritten and typed notes, memos, draft statements, correspondence, flyers, press releases, forms, addresses, articles, and papers, contracts, legal brief, legislative bills, financial records.
Documents bargaining that occurred outside the primary bargaining relationship, because it (a) resulted in informal agreements or rules changes outside the contract, (b) involved more than one union or employee constituency, or (c) involved more than one management authority, such as other public colleges in New Jersey, or the state government. Topics include the Rutgers administration's relations with other management-side agencies (the Board of Governors, other public colleges in New Jersey, the state Department of Higher Education, and the state legislature); union coalitions involving the Rutgers AAUP and other employee organizations, union-management coalitions (around issues of agreement such as the faculty academic study program); relations of students, women, and minorities with faculty collective bargaining; and non-faculty bargaining at other higher education institutions.
The two formal union coalitions documented are the Council of Rutgers Employee Organizations (COREO) and the New Jersey Association of Collective Bargaining Agents (ACBA). COREO included the Rutgers AAUP chapter, the Rutgers Patrolmen's Association (IBPO Local 373), AFSCME Local 888 (representing blue-collar employees), RAPAP, and COLT (AFSCME Local 1761). It addressed issues of shared concern, such as parking and pay schedules, in relations with the Rutgers administration. The ACBA included faculty bargaining agents from Rutgers, the Newark College of Engineering (later the New Jersey Institute of Technology), and the College of Medicine and Dentistry. It dealt with the state government on shared issues such as salaries and benefits.
Box
Folder
8
16
Bargaining Unit Faction Rutgers
17
Common Employer: Association of Collective Bargaining Agents (ACBA)
18-19
Common Employer: Council of Rutgers Employee Organizations (COREO)
20
Common Employer: Union, Coalition (Some ACBA, Some COREO)
21
Management Factions: Union Management
22
Non-Faculty Bargaining
Box
Folder
9
1
Students, Women, and Minorities
2
Union-Management Coalitions: Life and Health Insurance
3
Union-Management Coalitions: Participation in Preparation of Budget
VI. Unilateral Management Actions: External Agencies and Institutional Management, 1966-1975
Arrangement: Alphabetically by folder title.
Summary: News releases, memorandum, newspaper clippings, correspondence, reports, notes, minutes, articles, briefs, and other materials pertaining to rule changes established by external agencies such as the State of New Jersey and the Department of Higher Education and unilateral actions of the institutional management of Rutgers University. Several folders involve the creation of committees in accordance with the agreement between the University and the AAUP and University Senate legislation. The issues are faculty position reductions, budget, grievances, academic calendar, centralization of personnel data collection, co-education, academic programs, faculty-student ratio, job evaluation, and outside appointment.
There are a few folders containing briefs and court case materials. The folders dealing with the impact of these changes are written by James Begin and give an overview of the situation and the issues.
Box
Folder
9
4
Co-Education
5-6
Impact: Rationalization
7
Rule Changes Established by External Agencies
8
Rule Changes Established by External Agencies: AAUP - Ratio Case
9
Rule Changes Established by External Agencies: Calendar
10
Rule Changes Established by External Agencies: Centralized Personnel Information
11
Rule Changes Established by External Agencies: Department of Higher Education Faculty Workload Study
12
Rule Changes Established by External Agencies: External Agency Changes in Government Programs
13
Rule Changes Established by External Agencies: Guidelines on Outside Employment
14
Rule Changes Established by External Agencies: Job Evaluation (Hay)
15
Rule Changes Established by External Agencies: Master Plan
16
Rule Changes Established by External Agencies: Medical School
17
Rule Changes Established by External Agencies: Miscellaneous
18
Rule Changes Established by External Agencies: Student Matters - Tuition
19
Rule Changes Established by Institutional Management: Appointment and Promotions Procedures and Working Conditions
20
Rule Changes Established by Institutional Management: Development of New Academic Programs
21
Rule Changes Established by Institutional Management: Payroll System, 1972-1973
22
Rule Changes Established by Institutional Management: Redefined Authority of New Brunswick Chair, in Liberal Arts (1972)
23
Rule Changes Established by Institutional Management: Rutgers: Computer Controversy
Box
Folder
10
1
Rule Changes Established by Institutional Management: Unilateral Action of Institutional Management (ROTC)
2
Rule Changes Established by Institutional Management: Women's Inequities
3
Rutgers Committee Reduction in Force
VII. Governance 1968-1985
Arrangement: Alphabetically by folder title.
Summary: Typed and handwritten notes, clippings, minutes, Senate rules and proposals, drafts of James Begin writings, memos, reports, published articles, meeting notes, and court documents.
Documents the University Senate and other forms of university governance at Rutgers, and to a small extent governance at other institutions, with particular focus on the relationship between the governance system and faculty collective bargaining. Topics include the history and proceedings of the University Senate and Senate committees; the Senate's relations with the AAUP, the Rutgers administration and administration committees, Board of Governors, Department of Higher Education, and state legislature; Senate membership and organization, including the Senate reorganization of 1969-70; governance within the Rutgers-New Brunswick colleges and at Camden and Newark campuses; students and university governance; the University Assemblies on Planning in New Brunswick (1974); governance at New Jersey community colleges; and governance and collective bargaining at other colleges and universities.
Issues addressed in the Senate proceedings and other activities documented here include the academic calendar; resource allocation and Rutgers' academic program; grievance procedures; grading policies; the restructuring of Rutgers-New Brunswick (including the Federated Plan); equal opportunity; the carrying of guns by the campus patrol; faculty tenure, appointments, evaluation, and promotion; and sabbatical programs.
Box
Folder
10
4
AAUP and Senate
5
Administration-Senate
6-7
Analysis: Governance
8
Bargaining Agent vs. Committees: Camden and Newark
9
Bargaining Agent vs. Committees: Committees
10
Bargaining Agent vs. Senate
11
Colleges
12
Draft Governance History
13
Draft Processing
14
Effective Resource Allocation Commission
Box
Folder
11
1
Governance
2
Governance: Colleges
3
New Brunswick Master Plan
4
Rule Changes Established by Governance: Administrators
5
Rule Changes Established by Governance: Appointment Promotion Procedures
6
Rule Changes Established by Governance: Budget
7
Rule Changes Established by Governance: Campus Patrol
8
Rule Changes Established by Governance: Changes in Programs
9
Rule Changes Established by Governance: Changes in Senate Proceedings
10
Rule Changes Established by Governance: Computers
11
Rule Changes Established by Governance: Credit
12
Rule Changes Established by Governance: Curriculum
13
Rule Changes Established by Governance: Department of Higher Education, Master Plan
14
Rule Changes Established by Governance: Dual Employment Standards
15
Rule Changes Established by Governance: Early Retirement
16
Rule Changes Established by Governance: Faculty Evaluation
17
Rule Changes Established by Governance: Faculty Student Ratios
18
Rule Changes Established by Governance: Federated Program
19
Rule Changes Established by Governance: Grading Policies
Box
Folder
12
1
Rule Changes Established by Governance: Grievance Procedures
2
Rule Changes Established by Governance: Investment Policy
3
Rule Changes Established by Governance: Parking
4
Rule Changes Established by Governance: Recess for Political Action
5
Rule Changes Established by Governance: ROTC
6
Rule Changes Established by Governance: Sabbatical Programs
7
Rule Changes Established by Governance: Students
8
Rule Changes Established by Governance: Tenure
9
Rule Changes Established by Governance: Tuition Remission
10
Rule Changes Established by Governance: Women's Inequities
11
Rule Changes Established by Governance: Workload Study
12-14
Rutgers: [No Title]
15
Rutgers: Working Paper 3 Community College Governance
16
Senate: Calendar
Box
Folder
13
1
Senate History: Operation of Current Senate
2
Senate History: Reorganization
3
Senate History: University Senate Minutes, 1967-1968
4
Senate History: Up to Current Senate
5
Structural Changes Rutgers University Senate
6
Task Force on the Internal Allocation of Resources (TF-IAR)
7
University Assembly of Planning, January 29, 1974
VIII. Contractual Grievance Procedure, 1969-1978
Arrangement: Alphabetically by folder title.
Summary: Notes, reports, correspondence, meeting minutes, briefs, papers, drafts of papers, dealing with both collective and individual cases brought before the Rutgers University. This series covers pre-bargaining grievance procedures, pre-bargaining cases, contractual grievances procedure, cases under contractual procedure, negotiations, and their impact. These folders are heavily populated with James Begin's writings, notes from meetings and workshops, and drafts of papers. A large amount of folders containing confidential material pertaining to individuals have been pulled and destroyed.
The folder labeled "Contract Administration" contains a paper by James Begin on due process and collegiality under faculty grievance mechanisms in the case of Rutgers University and the folder labeled "AAUP Grievance Meetings" contains an article by Richard Laity about resolving faculty grievances. These may be of significant interest to researchers as they give an overall view of the issues during the early seventies.
Box
Folder
13
8
AAUP - Grievance Meetings
9-11
Blumrosen Negotiated Grievance Process Analysis
12
Committee A - Newark John Lurie Cases
13-15
Committee A - Correpsondence Re: Grievance Procedures
16
Grievance Procedure Re: Newark Parking, 1971
17
Newark Group Grievance
Box
Folder
14
1
Camden Group Grievance, March 1973
2
President's Decisions Re: Grievances, 1971, 1973
3
Clippings Re: Faculty Grievances, 1975
4
Grievance Cases Analysis
5
Contract Administration
6
Contractual Grievance Procedure
7
Graduate School of Social Work, April 1971
8
Impact: Rationalization
9
Impact: Redistribution of Authority
10
Negotiations
11
Negotiations of Negotiated Grievance Process
12
Pre-bargaining Cases: Music Case - 1968
13
Pre-Bargaining Grievance Procedures
14
Rutgers Grievances: Private Sector
15
Rutgers Negotiated Grievance Process: (RU-JM), 1977-1978
16
Rutgers Negotiated Grievance Process: 1970-1971, 1974-1975 Data
17
Rutgers Negotiated Grievance Process: 9/1/76 Draft Comments
Box
Folder
15
1
Rutgers Negotiated Grievance Process: September 1, 1976 Draft Comments
2-3
Rutgers Negotiated Grievance Process: September 1, 1976 Draft Corrected Tables
4
Rutgers Negotiated Grievance Process: November 1977 and Drafts, ILRR Articles
IX. Contractual Rules Application, 1972-1978
Arrangement: Alphabetically by folder title.
Summary: Published articles and reports, correspondence, memos, typescripts of articles and reports, handwritten notes, clippings.
Primarily documents the impact of collective bargaining on faculty compensation at a number of colleges and universities. Also includes detailed materials on rules affecting New Jersey state college faculty, and materials on lack of implementation of contractual rules at Rutgers.
The folders labeled "Economic Impact 2" and "Drafts - August 30" include drafts of a paper by Begin entitled "The Impact of Faculty Bargaining: A Conceptual Discussion."
Box
Folder
15
5
Drafts - August 30
6-7
Economic Impact
Box
Folder
16
1
Failure to Implement - Local
2
Rutgers: Contract Analysis
X. Rutgers Council of AAUP Chapters, 1958-1976
Arrangement: Alphabetically by folder title.
Summary: This series contains correspondence, minutes, notes, news paper clippings, publications, speeches, court records, papers and other materials concerning meetings, governance, and issues of the Rutgers Chapter of the AAUP and how it interacted with the National AAUP and the Rutgers University administration. For the most part this series documents the everyday and general material on the Rutgers Chapter of the AAUP.
Several folders contain materials on the Rutgers University Delegate Assembly. This was a representative body of the faculty created for the purpose of collective negotiation and related matters, for which it would advise and recommend policies.
Box
Folder
16
3
AAUP 1958-1959
4
AAUP 1959-1960
5
AAUP 1960-1961
6
AAUP 1962-1963
7
AAUP 1963-1964
8
AAUP 1964-1965
9
AAUP 1965-1966
10
AAUP 1966-1967
11
AAUP 1967-1968
12
AAUP 1968-1969
13
AAUP - Committee W 1971-1972
14
AAUP - Delegate Assembly
15
AAUP - Delegate Assembly - Why Didn't Work
16
AAUP - Executive Council
17
AAUP - Executive Council, June 20, 1973
18
AAUP - Executive Council Meeting, 1971-1972
Box
Folder
17
1-3
AAUP, September 1970-September 1973
4
AAUP - General September 1973 - 1974
5
AAUP - Grievance Procedure
6
AAUP - Grievances
7
AAUP - Issues, September 1973
8
AAUP - Membership Meeting, May 17, 1973
9
AAUP - Membership Meeting - New Brunswick Contract Ratification, June 4, 1973
Box
Folder
18
1
AAUP - Membership Meetings
2
AAUP - Miscellaneous
3-4
AAUP - National Committee R (Government Relations)
Box
Folder
19
1-2
AAUP - National Committee - W
3
AAUP - National Meeting, 1973
4-5
AAUP - Negotiations, 1974
6
AAUP - Newsletter, September 1970-December 1971
7
AAUP - Pension, 1976
8
AAUP - Rutgers Faculty Agreement
9
AAUP - State Conference, April 15, 1972
10
AAUP - State Conference Meeting, November 18, 1972
11
AAUP - State Conferences, March 19, 1973 and December 8, 1973
12
AAUP - State Committee W, 1975
13
Committee R - Legislative News
Box
Folder
20
1
Delegate Assembly, 1971-1972
2
Delegate Assembly, 1972-1973
3
Delegate Assembly - By-Laws
4
Delegate Assembly Meetings, 1970-1971
5
National and NJ AAUP
6
Salary and Fringe Benefits Committee Meetings - AAUP, 1971-1972
XI. Research Study, 1963-1977
Arrangement: Alphabetically by folder title.
Summary: Correspondence, grant proposals, organizational charts, handwritten and typewritten drafts, questionnaires, interviews, forms, charts, AAUP rosters, outlines, published articles, coding manuals, computer printouts.
Documents the design, organization, methodology, and funding of the research study on faculty collective bargaining in New Jersey. Topics include funding proposals; project administration; schedule of research tasks; conceptual categories and analytical model; research questions; data collection scheme; observational methods; interview planning, schedule, sample, and questions; development of the faculty survey questionnaires (faculty statistical profile survey and faculty negotiations survey); coding instructions and coding manual; and final report to funders.
Also includes background materials such as examples of questionnaires used in other studies; published articles on faculty attitudes; directories of codes and abbreviations for labor unions, counties, and municipalities; and notes on Public Employee Relations Commission (PERC) labor dispute hearings and decisions.
Folders labeled "Carnegie Proposals" and "OE Proposals" contain Begin's grant proposals which explain the purpose and design of the study. The "Documents" folder contains a chart matching research questions to the relevant source documents. The "Final Report" and "Analysis" folders both contain copies of the document "Analytical Files: Suggested Organization," which details the filing system Begin and his colleagues developed for the project. "OE Report 1/26/73" folder contains Begin's final report on the study for the U.S. Office of Education.
Box
Folder
20
7
Alternative Bargaining Framework
8
Analysis
9
Articles - Faculty Bargaining
10
ATT and BEH, Inputs
11
Background Articles and Information
12
Chicago Interview Form
13
Coding 1
14
Coding 2
15
Coding 3
Box
Folder
21
1
Coding Data (AAUP Rosters, Code, Coding Procedure)
2
Coding Manual
3
Coding - Summary of Public Employee Relations Commission (PERC) Decisions
4
Contract Administration
5
Contract Analysis - System Checklist
6
Design Materials
7
Documents - Guide to Collection and Analysis
8
Examples of Questionnaire
9
Faculty Governance
10
Faculty Negotiations Survey
11
Final Report
12
Impact of Bargaining in School Systems (Report)
13
Institutional Background
14
Interview, Analysis Guide
15
Interviewee Characteristics
16
Observational Techniques
17-18
Office of Education (OE) Report (final draft), January 26, 1973
19
Original
Box
Folder
22
1
Output Model (draft), September 21, 1972
2
Patterns and Causes
3
Project Administration
4
Questionnaire: Draft (Rationale Draft) Current
5
Questionnaire: Membership Information
6
Questionnaire: Original
7
Questionnaire Rationale: Current
8
Questionnaire Rationale: Original
9
Questionnaire Rationale: Work Satisfaction
10
Research Design: Alternate Bargaining Relationship
11
Research Design: Bargaining Relationship
12
Research Methodology
13
Research Methods
14
Rutgers - Carnegie Proposal
15
Rutgers - Office of Education (OE) Proposals
16
Rutgers University Faculty Stat Profile Questionnaire, December 6, 1971
Box
Folder
23
1
Rutgers University Organizational Charts, 1963-1971
2
Socio-Economic Information
XII. Interviews, 1972-1976
Arrangement: Alphabetically by folder title.
Summary: This series is composed entirely of the notes and transcripts of interviews conducted by James Begin. Begin conducted 19 interviews with both members of Rutgers University faculty and administrators. These interviews were conducted in order to gather information on collective bargaining and related issues at Rutgers University.
Box
Folder
23
3
Interview: A.H.E., November 4, 1975
4
Interview: President Bloustein, June 3, 1974
5
Interview: Dave Davies
6
Interview: Horace Depowin
7
Interview: Alice Evangelides, Grievance Procedure, May 1, 1973
8
Interview: Dean Grobman, November 15, 1972
9
Interview: W. Heckel, April 8, 1974
10
Interview: Dick Laity
11
Interview: John Martin - Rutgers, April 19, 1973
12
Interview: Walter Weicher Newark, April 30, 1973
13
Interview: Professor and Chairman of Nutrition, Agriculture and Environmental Sciences, April 26, 1973
14
Interview: Allen Robbins, April 12, 1974
15
Interview: Carter Smith
16
Interview: S.W.
17
Interview: Leo Troy (Newark)
18
Interview: WH, April 8, 1974
19
Interview: H. Winkler, April 8, 1974
20
Interview: Dean Young, George Masterdon, May 11, 1973 and John Berkley, May 11, 1973
21
Interview: Peter Lindfield March 3, 1975
XIII. Articles and Talks by Begin, 1971-1975
Arrangement: Alphabetically by folder title.
Summary: Drafts of articles and papers by Begin (or Begin and Stephen Browne) that do not readily fit into one of the other series, with accompanying correspondence and clippings.
Box
Folder
23
22
Chicago Paper
23
Draft: College of Medicine and Dentistry, Recognition and Unit Determination
24
Emergence of Faculty Bargaining in New Jersey s Community Colleges
25
November Draft
26
Purdue Talk
27
State Institutional Relations Under Collective Bargaining in New Jersey
XIV. Collected Articles, Papers, and Speeches, 1970-1980 (7 folders)
Arrangement: alphabetically by folder title.
Summary: This series consists of papers, book chapters, dissertations, and articles by authors other than James Begin. The universal topic of these writings is collective bargaining. However, the focus of the writings varies from Rutgers University, four year colleges, and foreign bargaining.
Box
Folder
24
1-2
Foreign Bargaining - General
3-5
Lee Dissertation: Rutgers and Temple
6
Richard P. McCormick, Alternative to Federation
7
Schuster Dissertation: Rutgers Chapter
XV. Miscellaneous, 1967-1981 (19 folders)
Arrangement: alphabetically by folder title.
Summary: Reports, correspondence, memos, clippings, published articles, minutes, flyers, legal documents, typed and handwritten notes, contracts, newsletters, and drafts of Begin articles.
Includes files that do not fit into other series. The bulk of materials are from 1974 on, and are grouped into folders by academic or calendar year, rather than by subject; thus any one of these folders may contain items related to several other series categories. Major topics include the Rutgers AAUP, the University Senate, other unions at Rutgers, the Task Force on Internal Allocation of Resources (1973), evaluations of education at Rutgers, the university budget, AAUP at other colleges, and faculty strikes at other colleges.
Begin's writings are lightly scattered throughout the series; in particular, the folder "Rutgers: 1974-5" contains his notes from several meetings, interviews, and conversations.
Box
Folder
24
8
1967 Middle States Education
9
1968 Middle States Evaluation Report
10
Deans
11
Graduate Education at Rutgers
12
Impasse Resolution
13
Rutgers, 1973-1974
14-16
Rutgers, 1974-1975 1974-1975
17-19
Rutgers, 1976-1977
20-21
Rutgers, 1977-1978
Box
Folder
25
1
Rutgers, 1978
2-3
Rutgers, 1979
4
Rutgers, 1981
5
Task Force on Internal Allocation of Resources
AAUA - American Association of University Administrators
AAUP - American Association of University Professors
ACBA - New Jersey Association of Collective Bargaining Agents
AFSCME - American Federation of State, County, and Municipal Employees
AFT - American Federation of Teachers
BLS - U.S. Bureau of Labor Statistics
CMD - New Jersey (or Rutgers) College of Medicine and Dentistry
COLT - Clerical, Office, Laboratory, and Technical Employees of Rutgers, the State University, affiliated with AFSCME
COREO - Council of Rutgers Employee Organizations
DHE - New Jersey Department of Higher Education
IBPO - International Brotherhood of Police Officers
NCE - Newark College of Engineering
NEA - National Education Association
NJEA - New Jersey Education Association - affiliated with NEA
NGP - Negotiated Grievance Process
OE - U.S. Office of Education
PERC - Public Employee Relations Commission
RAPAP - Rutgers Association of Professional and Administrative Personnel
ROTC - Reserve Officer Training Corps
RUCTA - Rutgers University College Teachers Association (organization of part-time/coadjutant faculty)
TF-IAR - Task Force on the Internal Allocation of Resources
UCTA - University College Teachers Association
---