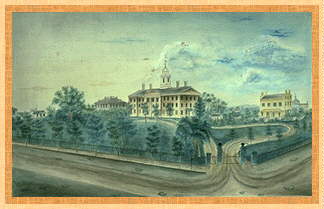 MC 1399
By Samara Rhett, Teresa Slobuski and Fernanda Perrone
November 2010
Special Collections and University Archives, Rutgers University
Finding aid encoded in EAD, version 2002 by Teresa Slobuski November 2010
---
Creator:
Orttung, Jane
Title:
Jane Orttung Files on Yznaga del Valle,
Dates:
circa 1970-(1990)2009
Quantity:
1.25 cubic ft. (2 records center cartons and 1 oversize folder)
Abstract:
Collection No.:
MC 1399
Language:
English
Repository:
Rutgers University Libraries. Special Collections and University Archives
---
Jane Orttung was born in New York City on May 6, 1924 to Henry C. Raven and Yvonne Aurousseau, and raised in Long Island, New York. Orttung's father and upbringing gained notoriety as Henry Raven raised a chimp named Meshie along with his children in order to study their development.
Orttung received her undergraduate degree in history from Douglass College (then named New Jersey College for Women) in 1946. She also received graduate degrees in library service and Latin American history from Rutgers University (1969 and 1973, respectively) and in anthropology from Columbia University (1973). She worked as an adjunct curator at the American Museum of Natural History in New York and eventually served as Latin American Studies Librarian at Rutgers University Libraries for over two decades. Orttung, widowed in 1970, had two daughters, Jo Mary and Robin. She later married Martin Poblete, a Chilean refugee and professor at Columbia University.
While working at the Alexander Library at Rutgers, Orttung encountered the archives of the Cuban sugar family Yznaga del Valle, which are housed in the Special Collections and University Archives. Yznaga del Valle and Company was a firm of sugar merchants, originating in Cuba, that eventually expanded into New York City. The family papers include personal and business correspondence, as well as the company's business records. Those records span the years 1850 through 1881. She dedicated much of her time to transcribing and translating these materials. She completed a significant amount of research related to the collection and wrote drafts for a Rutgers University history dissertation, which was never completed. The dissertation focused on nineteenth century Cuban sugar merchants and brokers with respect to their relations with U.S. and international money markets.
As part of her research, Orttung translated more than 2700 handwritten letters from Spanish to English, the originals of which can be found in the related collection (see below). She died on October 23rd, 2008, and a memorial service and small exhibition was later held at the Alexander Library in her honor.
---
The Jane Orttung Files on Yznaga del Valle comprise 2 cubic feet of materials (2 records center cartons and one oversize folder) and dates primarily from the 1970s and 1980s, although the collection includes a few items from earlier and later dates. Included are typed and handwritten letters to and from the Yznaga del Valle family that were transcribed into legible Spanish and then translated into English, mostly from the years 1855-60, as well as some from 1890. Also included are Jane Orttung's dissertation proposals, drafts, dissertation research and notes, as well as her own personal correspondence with several professors, heads of departments, contacts in Cuba, and with her dissertation advisor Sam Baily. Furthermore, the collection includes samples of the printed materials she collected from secondary sources related to her topic, most of which are undated. These relate to Cuba, the sugar industry, and nineteenth century business practices. Given Orttung's role as a Latin American Studies Librarian, it is not surprising that some of these materials are in Spanish. Her notes, however, are all in English. The collection is divided into four series: I. Research Materials, II. Letters, III. Dissertation, and IV. Exhibition Materials.
---
All materials were originally contained in binders with metal mechanisms to hold papers in place. Because these were beginning to rust the pages, all binders were discarded and papers were placed into archival folders. When appropriate, the original binder titles were kept and applied as folder names. Plastic binder dividers with specific headings were placed into the folders to separate different topics. Whenever possible to determine, the printed materials, as well as her notes, are categorized by the subject Orttung assigned to them. When Orttung's subject classification is not available, there is no indication on the folder of subject. The collection contained several incomplete drafts of Orttung's dissertation. The most complete draft (Draft C) is entitled "Conflict and Change in Central Cuba: The Iznagas of Trinidad and the del Valles of Sancti Spiritus, 1725-1959 (1814-1910)".
---
Yznaga del Valle & Co. (New York, N.Y.), 1850-1881. (MC 1227). Special Collections and University Archives, Rutgers University Libraries.
---
The collection originally contained 3.25 cubic feet of printed materials. The majority of these materials were removed from the collection because they were drawn from easily obtainable sources such as academic journals, government documents, and books on historical subjects. The most common periodical titles included: The Hispanic American Historical Review, Hunt's Merchants Magazine and Commercial Review, Inter-American Economic Affairs, Journal of Economic History, Business History Review, Anuario de Estudios Americanos, Explorations in Economic History, Islas, Plantaciones, Journal of Transport History, and Journal of Caribbean History. The only forms of notation on any of the discarded items were lines drawn down the margins, underlining in the text, dashes or stars on citations of interest, and notes on the first page indicating the source or subject category of the document. All of these were fairly rarely seen on the bulk of the documents. Some of the materials removed were not from obvious sources, but were mostly book reviews or sections from scholarly printed works. Materials not directly related to Yznaga del Valle that were retained included unpublished works and copies from a Cuban newspaper that Rutgers University Libraries were missing that particular year. Unique items such as papers from the Conference of Caribbean Historians were also retained.
---
One oversize map is stored separately.
---
Names
García Menéndez, Alberto A.
Guadarrama González, Pablo
Iglesias García, Fe
Orttung, Jane Raven
Subjects
Banks and Banking
Economic History
Hispanic American Studies
History – 19th Century
History – Cuba
Sugar Plantations
Sugar Trade
Translations
---
Jane Orttung Files on Yznaga del Valle. MC 1414. Special Collections and University Archives, Rutgers University Libraries.
The Jane Orttung files on Yznaga del Valle were donated by her husband, Martin Poblete, after her death in October 2008.
---
This section provides descriptions of the materials found within each series. Each series description is followed by a container list, which gives the titles of the "containers" (for example, folders, volumes, or cassettes) and their locations in the numbered boxes that comprise the collection. The availability of any digital items from a container is indicated with a hyperlink.
I. RESEARCH MATERIALS
Arrangement: Grouped by subject in five subseries: Research Files, Notes, Translations, Printed Materials, and Bibliographies. Research files includes Jane Orttung's personal correspondence during the time of her research, her proposal, some research articles (by subject), her analysis of the Yznaga del Valle papers, a preliminary bibliography for her dissertation, and a research paper she wrote entitled "Cuban Sugar Commerce in Transition: 1855–1880."
Summary: The Notes subseries contain Orttung's notes on articles or letters made in the course of her research. The notes appear as both typed and handwritten documents. Notes on particular articles have the citation at the start of the notes and often refer to particular page numbers. One folder in the notes subseries appears to be summaries of both printed sources and the letters from the Yznaga del Valle collection. There is a coding system, but it remains unclear how these match up to their referenced materials. The Translations subseries contain translations Orttung created for articles in the course of her research, on the subject of Spain in the nineteenth century. Printed Materials are documents not written by Orttung that she collected in the course of her research. These include unpublished materials, such as manuscripts of papers and a proposal for a dissertation, copies from a Cuban newspaper, and the first pages of documents that Orttung had more than 50 pages copied from the single source. Finally, the Bibliographies subseries contain printed sheets with lists of bibliographic citations. Subject headings divide some of the pages of citations and some of the citations are marked in ink.
Research Files
Box
Folder
1
1-2
Research – Correspondence
3
Research – Proposal 1947-1951
4-5
Research Articles – Spanish Commerce in the 18th Century 1947-1951
6
Research Articles – Trinidad and Cuba in the 19th Century 1947-1951
7
Papers from the Fourteenth Conference of the Association of Caribbean Historians 1947-1951
8-9
Research – Analysis: Yznaga del Valle Papers 1947-1951
Includes: Organization of the Collection, Chronological Distribution of Materials, Chronological Index of letters (Place, Date, Author) 1856-1860, Geographical Index of Letters (From Cuban Cities and/or Estates, From Latin America, From North American Cities, From European Cities, From New York)
10
Research – Preliminary Bibliography
11
Research – Cuban Sugar Commerce in Transition: 1855 – 1880
Notes
Box
Folder
1
12
Research – Notes – Summaries
This folder contains a collection of typed sheets with summaries of various types of materials. They include categorization by "Source Key" and "Subject Key" on most summaries, but the direct correlation between these and other documents remains unclear.
13
Research – Notes – Subjects: Banking U.S., Cuba 19th Century, and Sugar Industry
14
Research – Notes – Subject: Railroads
15
Research – Notes – Subject: Merchants
Translations 1929-2001:
Box
Folder
1
16
Research – Translations – Subject: Spain 19th century
Printed Materials
Box
Folder
1
17
Research – Printed Materials – Subject: Cuba 19th century
All in Spanish.
18
Research – Printed Materials – Subject: Sugar Industry
19
Research – Printed Materials – Subject: Personalities
All in Spanish.
20
Research – Printed Materials – First Pages
This folder has the first pages from discarded documents, which were of considerable bulk, more than 50 pages.
Bibliographies
Box
Folder
1
21
Research – Bibliographies
II. LETTERS (1 cubic foot)
Arrangement: Grouped by type and arranged chronologically.
Summary: All folders in this series deal with the letters from the Yznaga del Valle Papers which Jane Orttung was translating. The first six folders in this series are letters in Spanish that she transcribed, which are arranged chronologically. The next three folders contain some transcribed letters in Spanish as well as some letters mixed in that were translated into English. The next folder, Translated Letters-Misc., contains some miscellaneous hand-written and typed letters, in no apparent order. All the folders that follow are Orttung's translated letters, the first twelve arranged chronologically and the remaining seven arranged by subject. Also includes a file of Commission Invoices.
Box
Folder
1
22
Letters in Spanish – 1855-1856
23
Letters in Spanish – 1857
24
Letters in Spanish – 1858
25
Letters in Spanish – 1859
26
Letters in Spanish – 1860
27
Letters in Spanish – 1890
28
Letterbook XIV
29
Letterbook XV
30
Letterbook XVI and XVII
31
Translated Letters – Misc.
32-44
Translated Letters/Chronological – 1856
25-26
Translated Letters/Chronological – 1857
27-28
Translated Letters/Chronological – 1858
29-31
Translated Letters/Chronological – 1859
32-33
Translated Letters/Chronological – 1860
Box
Folder
2
1
Translated Letters/Subject – Banking
Includes: Exchange Rate, Money Market, Bill Exchange.
2-4
Translated Letters/Subject - Business Organization
Includes: Commodities Market, Accounts, Shipping, Referrals, Mail, Merchants, Dependents, Education, Puerto Rico's commerce 1835-1865: from regional to worldwide market relations by Birgit Sonesson.
5
Translated Letters/Subject – Family
Includes: Lawsuit, Dentist, Family, Politics, Disease.
6
Translated Letters – Sugar
Includes: Contract, Ingenios, Sugar Crop, Sugar Shipping, Sugar Market, Sugar Sale, Slave Trade.
7
Translated Letters – Technology
Includes: Machinery, Mechanics, Steamship, Foundry, Port of Zaza.
8
Commission Invoices – Organized by name
Includes: Atalaya, Yng.; Calleja, J., y Ca.; Domenech Ortiz y Ca.; Estrada, Francisco; Gil, Francisco; Hernandez Yznaga, Dna. Juana; Lara, Roque de; Lopez Calleja, Juan; Macia, Juan M.; Mariani, Luis; Martinez, Antonio; Montejo Caballero, Francisco Javier; Montejo Caballero, Manuel; Neumann, Frederico; Polo Altamira y Ca.; Perillade, Emile; Robau, J., y Ca.; Rafecas Vila y Ca.; Ramos y Salas; Schmidt, G., y Ca.; Valle, Antonio M. de; Varona y de la Torre, Carlos; Yznaga, Felix; Yznaga del Valle, Pablo; Sres Yznaga y Hno.
III. DISSERTATION (.5 cubic feet)
Summary: Includes Orttung's personal correspondence during the time she was writing her dissertation, applications for research leaves and reports, dissertation proposals, proposal notes, and dissertation drafts. Draft C is the most complete version of her dissertation, comprising almost 500 pages. It is also the only titled version, which Orttung called "Conflict and Change in Central Cuba: The Iznagas of Trinidad and the del Valles of Sancti Spiritus, 1725-1959 (1814-1910)."
Box
Folder
2
9
Dissertation – Correspondence 1978-1998
10
Dissertation – FASP Applications, FASP Report
11
Dissertation – Proposal Notes
12
Dissertation – Proposals
13
Dissertation – Loose Pages
Includes a photocopied image of Modesto del Valle Iznaga, pages 43-45, pages 197-212, and pages 284-298.
14-16
Dissertation – Draft A
17-18
Dissertation – Draft B
19-24
Dissertation – Draft C
IV. EXHIBITION MATERIALS (.25 cubic feet)
Summary: Includes materials donated and/or created for the 2009 memorial exhibition. Includes photographs, maps of Cuba, Cuban currency, and the brochure from Orttung's memorial service. One oversize map is stored separately.
Box
Folder
2
25
Cuban Currency
26
Photographs: Cuba, 1987
27
Memorial Pamphlet, 2009
28
Maps of Cuba, circa 1956 and 1976
25
Cuban Currency
Oversize
Oversize
Map of Cuba (Sancti Spiritu Province), 1976